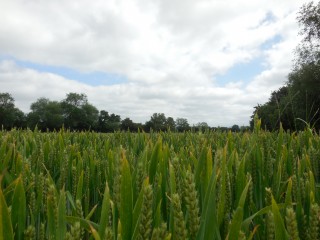 It's been a busy start to the year carrying out training and visiting growers in Herefordshire. I am a trainee agronomist at Frontier in the west and also involved with the team that look after the #3DThinking Ledbury site. The trials that take place there offer valuable insight into the differences between several crop varieties and are a vital aid for growers when it comes to forward planning.
The site is now moving into its second year of replicated trials, growing a comprehensive list of wheat and barley varieties over two hectares at The Vineyard, Donnington. We will be watching our varieties and gathering data throughout the year, setting fungicide programmes from March based on the disease pressure within the area.
We are keen to see how our favourable wheat varieties, Costello, Siskin and Shabras perform after last year's harvests, while still comparing the old faithful variety, JB Diego. However, we'll be keeping a close eye on this one due to the bad breakdown with yellow rust last year. We're also excited to see how our new high-yielding feed wheat varieties perform – Jackal, Gravity and Gleam.
We have a mixture of two-row and six-row barley varieties growing on the trial site this year including Craft, KWS Orwell and a new two-row feed variety, KWS Creswell. We also have various candidate varieties consisting of Coref, Belmont and Libra. There is still a large debate around hybrids – to be or not to be – with opinions split down the middle. However, there are some growers within the region that are excited to grow Bazooka again after last year's harvest.
We will be continuing to develop fungicide programs tailored to the area including new chemistry that will be coming to the market in the near future.
Open Days
#3DThinking Meetings
Before our above open days, you also have the opportunity to join us at our 3DThinking meetings, at either Moreton-on-Marsh or Droitwich on the 13th Februay and Ledbury on the 14th February.
Planned speakers and topics to be addressed at the meetings are:
Philip Kimber, head of oil seed trading speaking about the global and UK grain markets.
Andrew Hartley, national trials manager discussing last year's trial data from our local sites.
Edward Downing, national crop nutrition technical manager speaking about the efficient use of crop nutrition applications.
If you are interested in booking a place at any of the above 3DThinker meetings, you can do so through the Frontier website.
​Bethanie Jones-Davies, Trainee Agronomist