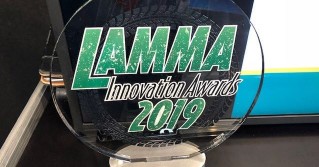 Over the 26 year lifespan of SOYL, we have exhibited at many agricultural shows and events. When you have a mission to 'Make Every Hectare Count', getting out and meeting as many growers around the world as possible is vital.

We kicked off 2019 with a trip to Lamma, the UK's largest agricultural and machinery show. For the first time the event was held indoors at the NEC in Birmingham and it really made us think about how far the exhibition has come. It also represented a crossing of two paths from our early days:
From 1996 to 2004, we exhibited at the Royal Smithfield Show - a professional indoor event at a world famous venue; London Earl's Court.
We exhibited at Lamma for the first time in 1999 which, back then, was only a very small event in Newark. Little did we know it would grow to be one of the biggest in our industry.
​Lamma'19 at its current scale was a refreshing way to start the year. The new location gave us and its attendees everything you'd expect from a popular, modern venue, including a great choice of local hotels, close proximity to nearby cities, plentiful parking and the ability to cater to a huge capacity of people - great should the event continue to grow.
More importantly though, the event gave growers the opportunity to meet with a lot of their suppliers under one roof at a time when they have a lot of questions about the future and how to plan ahead to safeguard their business.
With Brexit looming, the agricultural industry has entered into a period of uncertainty and, unsurprisingly, growers are keen to hear about their options and how to make the most of the changes that are coming.
Lamma was the perfect opportunity to do this and for us at SOYL, the event was one of the busiest we have attended in several years. We had a combination of new customers wanting to know more about our precision services to help improve their crop margins and existing customers, who were excited to learn about our improving technology. We also had the pleasure of meeting various partner companies from across the industry. This is always really useful as we're able to hear about their latest developments and how our services can work alongside them to better support growers.
Lamma Silver Innovation Award
A particular highlight of the event was being awarded the Lamma Silver Innovation Award for our new yield insight tool within MySOYL.
The tool gives growers the ability to view all the yield data from their crops, regardless of combine colour, in a way that uniquely displays patterns visually. This means that farmers can access more information to help them better understand the distribution of yield across a field. Additionally, the innovative interactive tool allows a user to focus dynamically on how much (or little) of a field yields at a particular level. This allows actual quantification of field performance where low yielding areas may then be used to accommodate environmental options and high yielding areas could be pushed harder.
As well as yield maps, MySOYL, part of Frontier's farm management platform, MyFarm, has a range of tools for statistics, historic yield reports, nutrients, soil types and much more.
A positive future
At SOYL, we're determined to continue developing technical innovations like this to support growers and events such as Lamma are important to us as a way to speak to our customers, both existing and new, to help with planning for the future.
While the industry prepares to undergo some significant change, we are committed to delivering services that offer improved profitability, sustainability and resilience for farmers. We are excited about the opportunities that these will bring and to share them with even more of you at Lamma '20.