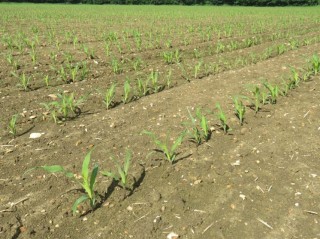 ​After the long, cold winter that we all experienced in the early part of 2018, many maize crops were drilled into relatively cold seedbeds at the end of April. Looking back to the May Day bank holiday however, we had some unseasonably high temperatures which then set the scene for the remainder of the month – even leading to some records being broken.
By the time we reached the 10th May onwards, even the heavier clay soils had dried out enough for maize drilling to happen and crop germination/emergence was pretty quick thanks to warming soil temperatures. In stark contrast, during the last week of the month many parts of the country received some very heavy, thundery downpours, depositing large quantities of rain in a very short period.
Soil-wash and erosion
Maize is usually sown on very wide row spacing – perhaps up to 75cm between rows – to allow forage harvesters to deal with the crop at harvest-time. This can cause it to be very vulnerable to soil-wash and erosion in the period before the crop's leaves cover the soil around mid-June.

However, many fields experienced significant soil-wash in the last few days of May due to the heavy rainfall, which may have caused some surface-applied nutrients to have been washed into nearby water-courses.

Rain will have also caused some nutrients to leach from the soils, potentially now out of reach of the crop's roots in its early stages of growth. If this is believed to be the case, the grower and agronomist should look to see if additional nutrient applications might be necessary to promote crop growth. Crucially, always be mindful of the Nmax limits of the crop.

Weed control
Our thoughts should then turn to any post-emergence herbicides that might be required.
Maize really does not want any weed competition to prevent it from making maximum use of the available sunlight or nutrients within the soil. In discussions with your Frontier agronomist, it is worth considering the wide choice of herbicide products available to provide the best weed control. These products must be applied before any buttress roots of the crop form above ground-level, which is normally around the 9-leaf stage of the crop's growth.
Fungicides are best applied to the crop in mid-July, just before the crop becomes too tall and difficult for a sprayer to get through.

Managing disease

Eyespot (Kabatiella) in the maize crop might be expected to become a problem for many growers this year following the very wet soils early in the season. Any trash from a previous maize crop, or enhanced nutrient availability from a previous manure application, will also increase the risk of this disease. The product options are either Opera or Comet, both of which contain pyraclostrobin.
For further advice and support related to any of the topics in this blog, please speak with your Frontier agronomist or contact us here.​