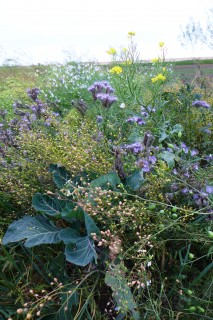 As part of my role as a Kings advisor, one of the great things I am involved with is the Balgonie grey partridge project in Fife.
Balgonie features as one of 10 Interreg North Sea Region PARTRIDGE projects and, as with the work we also support at Loddington, it serves as a demonstration site and involves us working closely with the Game and Wildlife Conservation Trust (GWCT).
The objective of the PARTRIDGE programme at Balgonie is to make the region more innovative, resilient and sustainable, demonstrating how new management solutions can improve biodiversity and ecosystem services by up to 30% between 2016-2020. Work carried out to achieve this includes the creation of significant cover crop areas, the restoration and creation of hedgerows, quality grey partridge habitats and the provision of supplementary feeding in the winter.
Balgonie is already home to a modest population of grey partridges but, historically, there were far more present on the farm, making the project paramount to reversing their decline.
Only two years in, there has already been a considerable amount achieved. Seeing such a positive response so early on is really rewarding and makes it all the more exciting to be involved.
Bespoke cover crop mixes
In early 2016, The GWCT started initial work to assess the number of grey partridges on site. In the months that followed, further surveys were completed, feeders were placed around the site and general maintenance was undertaken.
In May 2017, new cover crops were planted in designated areas and around potato fields. For this, I had the opportunity to work with Dr Dave Parish of the GWCT to develop two crop mixtures specifically tailored to the site; our new Grey Partridge Brood-Rearing Mix and the longer-term PARTRIDGE cover crop.
The Grey Partridge Brood-Rearing Mix was an annual mix comprising crimson clover, vetch, phacelia and buckwheat, sown at a low rate into warm soil in spring. As well as buzz with insects, this would help to create an open habitat ideal for grey partridge chicks to move around in.
The second cover crop is a little different. It was designed to last for several years and is made up of annuals such as cereals, biannuals such as kale and perennials such as chicory. In terms of timing, ideally it should be spring-sown at the end of April or in early May and should be drilled in at least 1ha blocks or wide strips over 24m. Once the crop is established in its second or third spring, half of it is decimated in order to leave a short, open structure ideal for foraging chicks alongside the taller, denser vegetation which is great nesting and escape cover. In some years it might be necessary to resow some of the mix components if gaps are appearing or others are becoming dominant. Overall, the crop mix provides a vital source of pollen and nectar through the summer and significant feed value over winter.

In the summer after the initial sowing, birds were already making use of the crops and the grey partridge brood counts were carried out in September. Commenting on the work, Dave Parish said "It's fantastic to see evidence of the birds making use of these new crops so soon. They are clearly making an important contribution to the birds' habitat and all credit to Alan and Kings for their expert input into these new mixes and their important contribution to this project."

Work by the GWCT continued for the remainder of the year and into early-2018 to carry out further wildlife surveys and, in March, we then marked out new areas for additional cover crop plots.
Following the success and ongoing assessment of those already in the ground, we looked to see if there were any features we could make even better for this year. This involved some minor tweaks – a range of additional species such as perennial rye and sweet fennel were introduced so we could investigate their long-term performance.
When it came to drilling, the infamous heatwave of this summer definitely brought with it some challenges and the ground was particularly dry. The crop was drilled early May across 10ha to help increase habitat for the grey partridges.
Since then, and despite the hot, dry weather, I'm happy to report that the crops are doing well. We're continually carrying out surveys to monitor the presence of partridges – and other wildlife – but it's a very long-term project so there is still a way to go.
For now though, initial results are really pleasing and it's great to see the presence of new habitat making such a difference already. It's definitely a project I'm proud to be a part of and I look forward to providing more updates as our work progresses.