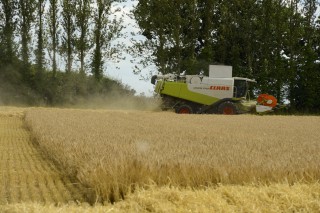 Once again, I write this during yet another change in the weather. The cold, wet spring has now given way to some very warm days, some intermittent and heavy downpours and a late growing season which has delivered some amazing growth to both spring and winter sown crops. With favourable conditions set to continue, there are crops showing good potential as we head to harvest and with that comes the invitation to a fresh start...
As we approach harvest perhaps you will glean some new ideas from the various shows and open days this summer. New methods and techniques are constantly sought after during the early summer months. I always enjoy getting involved with my growers when they trial a new drilling technique, grow a new crop or variety or just simply break from the normal farm practice of yesteryear.
However many trials you visit or meetings you attend, I don't think you can beat doing things on your own patch. Full scale trials are difficult to do obviously, but a simple seed rate, nutritional or cultivation experiment never goes a miss. A mind open to suggestions and ideas can unlock a lot of potential and digest a lot of information. Putting it to good use is another subject altogether, so it's important that the ideas are shared. This sometimes doesn't come naturally to people in any walk of life. Are you an innovator, or an early adopter of technology?
I attended the Groundswell event at the end of June to catch up with the latest thinking on no-till. The event is in its third year and attracts no-till and soil experts from around the world. It's based on a conference style format, with working demonstrations of direct drills over a two day period. One day focuses on grassland and pasture production, while the next brings attention to key arable topics.
Some might say the event comes across as quite 'evangelical' in its approach to crop production and that everything must be direct drilled into a cover crop. In reality that's not the case and I find the concept interesting and quite refreshing, as it gives me ideas that I can integrate with my own growers. There might only be two or three ideas that you pick up and can use effectively when you attend such events but they could have an impact on your business.
The concept that the event is pushing is not new. Direct drilling came and went in the 1980s with a boom-and-bust scenario, when in reality most farms and its soils were just not ready for it. There is an obvious risk to such systems, the number one being crop failure. I know one shouldn't be afraid of risk and failure but when a business has a bias toward a Farm Business Tenancy (FBT) or tenancy agreement the stakes are high, especially as we head into the choppy waters of Brexit.
There are some principles and ideas that can be integrated into any farming system that don't require wholesale change. Let's enjoy the summer and its learning opportunities and get set for that post-harvest fresh start!