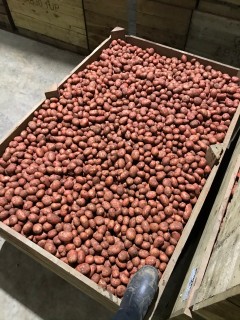 Last autumn saw the withdrawal of Monceren DS, a powder potato seed treatment containing pencycuron. Many growers have relied on Monceren to control the pathogen Rhizoctonia solani. Left untreated, this pathogen can cause crop-damaging symptoms such black scurf.
Despite the withdrawal of this specific product, the outlook is still good and includes a number of effective specialist liquid treatments. Many of the growers we advise have been moving away from powder treatments anyway with growers reporting concerns about powder formulations on belt planters where it can be difficult to get the dust formulation to stick and retain on tubers.
We still have a range of products, including liquids, to protect seed tubers. One in particular, MAXIM 100FS liquid, has proved particularly effective. Crucially, MAXIM 100FS is a broad spectrum fungicide that has high levels of activity against black scurf as well as activity against silver scurf, black dot, dry rot, gangrene and skin spot. It's also demonstrated a consistent reduction in common scab, a brighter smoother skin finish and a more even tuber size. It's performed well in SAC trials too, delivering 10% more stems and tubers over untreated crops.
​There are three application options for potato growers interested in protecting their crop with liquid fungicides. Growers can pay to have seed pre-treated by the seed producer prior to despatch,, the grower can have their own equipment installed on the farm to make application themselves, or Frontier can professionally apply the treatment on farm using a new mobile treatment service, based in Scotland.
Having seed pre-treated with these liquids prior to planting will help growers by taking pressure off by reducing the need for in field operations. We're able to offer advice on the best option depending on the grower's individual requirements. For those who wish to install kit on their farm, we can help choose and arrange installation of bespoke equipment and provide on-going support in its use. Meanwhile, we expect our new mobile application service to be very popular this season. Growers booking mobile application will benefit from a comprehensive service with fungicide applied on farm by a qualified Frontier operator using specialist mobile treatment equipment.
Whichever option growers choose, investment in liquid treatments brings benefits in coverage and crop protection, "The loss of any product that's been part of a grower's standard programme can bring challenges. However, in this case these liquid treatments can prove really effective when applied pre planting. That should show through in the growing crops and resulting saleable yields this season."
For information on the effective management of potato crops visit the AHDB website and download their specialist guide.
For advice on all potato seed treatments including machinery selection/installation and mobile liquid application in Scotland, contact your local Frontier agronomist.
Stewart Fletcher
Potato Seed Care Coordinator – Scotland