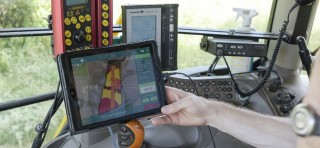 It is always the first question we get asked when it comes to customer iPads – is mine compatible when it comes to variable rate?

It's easy to assume that "an iPad is an iPad, so it will just work" but unfortunately this is not always the case. Some iPads only have wifi capabilities as opposed to 4G data, while others may not have a GPS module inside them. For others, it can be something as simple as having the wrong charging port which doesn't support the variable rate cable!
Sounds like a bit of a minefield, doesn't it? Do not fear – there are actually some very quick and simple steps which help determine whether your iPad is compatible. We've outlined them below for you:
1. Find out if your iPad has the small lightning charger port or the older 30-pin charging port.

​Check the different connectors below to check which your iPad has. If you have 30-pin charging port and cable, unfortunately your iPad is not compatible. If you have a lightning connector port and cable, your iPad may be compatible and you can check step 2.

2. Check the GPS module on your device. Does your iPad have a SIM card slot on it?
Please note, you do not need a SIM card in the iPad, it just needs to have the capability of having one. Most iPads have a SIM card slot on the side of the device as seen in the picture below.
If you are unable to find a SIM card port, your iPad is not compatible for variable rate through iSOYL. The reason this is required for the service to work is because the cellular capabilities share the same module as the GPS on the device.


If you are still unsure about whether your device will work with our variable rate service, please feel free to call our Support Team on 01635 204197 who will be able to advise further steps to determine the capability.
Mark Frost
Technical Support Team Leader
For specific advice for your business related to this blog or any other aspect of precision crop production get in touch with SOYL.