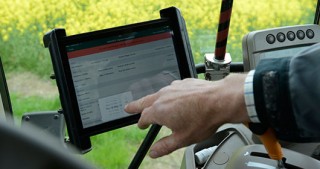 I've been visiting growers on their farms for nearly 25 years and I've noticed that there are many familiar consistencies between businesses and yet at the same time every farm is different.
One of the common themes is how busy farmers are.However, there is no correlation between how busy farmers are and the size of the farm, the amount of diversification, or the number of staff. It just seems some handle time management better than others; although I know that's not restricted to farmers!
I've also noticed that the use of technology to aid time management and the efficiency of communication between agronomist and farmer is one improvement that some people are yet to adopt.
I'm relatively new to my current job and during the last couple of months I have spoken with a lot of agronomists about the use of technology. When I ask "How do you know if a previous recommendation has been carried out?" these are the answers I get:
I ring the farmer (by far the most popular response).
I assume it has been done.
I know the farmer will have done it.
I check Frontier's MyFarm system; viewing the records for that particular grower which gives me all the detail I need.
​If checking on a recommendation is the only reason for the call, then the first option is a waste of your time for all concerned. It means the advisor can't make an informed decision until he/she has spoken to the farmer; if the farmer is not available then time continues to be wasted as the advisor continues to try to find the information. What this does practically is hold up decision making, recommendations and product supply; which ultimately holds the farm business up. Meanwhile the second and third options are fraught with risk meaning that the recommendation could get missed or wrongly interpreted.
In my opinion, the fourth option, which uses technology to record and check activity, will generally be the most efficient method. It eliminates the risks associated with guessing and assumption and is much quicker. By logging on to MyFarm and viewing MyCropRecords/MyRecs the agronomist (and anyone else who the grower has authorised) can view all details of recommendations and applications.
To get this system of digital recording up and running on farm, you need to commit a bit of effort to learn how it works but that's common for implementing any new approach or tool. Once the system is underway everyone associated with running the farm business can benefit from live, up to date information on what has happened across the farm.
Recommendations are completed in real time and synchronised between the field, office, farmer, sprayer operator and agronomist. Decisions are therefore made based on robust information, recommendations are more timely, and applications can be carried out more promptly. And best of all the farmer's valuable time is still available to do be something more productive, more important and more profitable.
If you would like to hear more about evidenced based decision making using MyFarm get in touch with your local agronomist or farm trader or contact us directly.