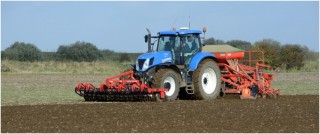 I'm sure farmers across the UK breathed a collective sigh of relief yesterday, as it was confirmed by the Chancellor of the Exchequer that the tax break on red diesel would remain in place for the agricultural industry.
Over the past week, farmers have been steeling themselves for a potential 50% rise in fuel costs following reports that the tax relief was going to be scrapped altogether as part of the 2020 Budget. While the news is a positive outcome for the industry the Chancellor has, however, announced that other sectors will be stripped of the tax exemption in two years' time.
Taking that into consideration, it certainly doesn't hurt to start thinking about how to make your farm more fuel-efficient for the future. One method, although not immediately obvious, is by employing variable rate (VR) technology on your farm.
The UK average tillage depth is 20cm and at this level diesel usage is 14.1l/ha. If you go down to 40cm, this usage increases to 26.4l/ha. At present prices (60.02p/litre), this equates to a diesel spend of £8.46/ha at 20cm and £15.84/ha at 40cm. If the tax relief was removed, these costs could have potentially risen to £13.82/ha and £25.87/ha respectively.
​Interestingly, variable depth tillage technology could provide a solution to cut your costs. Research indicates that an economic benefit of between 27-50% is achievable from variable depth tillage over conventional tillage.
Following development work with our own VR cultivations system, we identified some significant savings.
The reduction in fuel costs is one of the lesser reported benefits of VR fertiliser applications. While the fuel used to apply fertiliser is clearly lower than other field operations (2.2l/ha), it can quickly add up if you are making several passes through the year.
The potential saving from VR applications is clearly demonstrated in the below image. The blue sections indicate areas of the field where there are no requirements to apply TSP, with the accompanying figures highlighting how much of a saving could be made.
Some of you will (rightly) think that you're going to need to make another pass to apply potash, but even when this is factored in it will only cost you an additional 97p in diesel. As well as making a saving, there are the added environmental and agronomic benefits that come with VR applications too.
An even crop means an easy harvest
A more often publicised benefit of VR technology is having an even crop canopy throughout the year. This can be achieved by VR seed drilling; a practice which encourages even crop establishment in the autumn, followed by VR nitrogen and plant growth regulator (PGR) applications to manage canopy development in the spring. Ultimately, we all know that having an even crop means a much easier time for the person who eventually sits in the combine seat. But, it also means a more efficient harvest in terms of fuel usage. With the average combine using 22l/ha (or potentially £21.56/ha), any saving you can make is going to be very worthwhile!
Although we've not seen the tax change that was threatened, there is an opportunity to mitigate your current fuel costs to help make your farm more resilient for the future - so why wouldn't you? It's also likely that carbon and sustainability management will become more important within supply chains, and fuel use is certain to be a significant component to measure and manage efficiently.
Any reduction in your overheads is always going to beneficial. With VR, besides just cutting your diesel bill, you are also setting your crops up to maximise your yield returns and ensure the sustainability of your soils.
​For more information about any of the above, please speak to your SOYL contact or get in touch with the team.