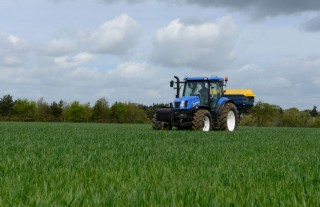 While a distant memory, the warm, dry weather of October and November allowed most winter crops to be drilled in fairly good conditions and establish well. It also encouraged mineralisation, producing good levels of nitrogen to aid early growth. In fact, in the run up to Christmas it very much looked like soil nitrogen levels would be higher than normal coming out of the winter. Of course, the weather had other ideas.
With extreme storms, heavy rainfall and treacherous snow from the #beastfromtheeast, we've certainly had our share of inclement weather this year. Unsurprisingly, this delayed many nitrogen applications. While the majority of crops will have received their first dose, it's vital that any outstanding applications be made as soon as possible and rates should be increased.
Soil nitrogen levels
As a result of the adverse weather some mineralised nitrogen has leached, although some areas remain relatively unscathed. However, the cold temperatures and wet soils have restricted any fresh mineralisation meaning levels are generally lower than normal. The table below shows the over-winter change in soil nitrogen levels across the country:
Soil Nitrogen Levels from the SOYL farms/Frontier trial sites (28 fields – varying soil types, 25 WW & 3 OSR)
​
​​Soil Mineral Nitrogen
(kg/ha)
​​Estimated Crop N
(kg/ha)
​Soil Nitrogen Supply
(kg/ha)
​SNS Index
​November average
​118.8
​8
​126.8
​4
​March average
​54.0
​25.4
​79.4
​1
​Change
​-64.8
​+17.4
​-47.4
​
Fortunately, soil temperatures are finally starting to rise but they are still below where they would normally be for this time of year.For most of the country they are now over 6oC, with some even above 7°C. Coupled with longer days, this will certainly stimulate crop growth.
Winter wheat
As mentioned, if the crop hasn't received the first nitrogen dressing it must be applied at a significantly increased rate as soon as conditions allow.
Most people have already moved to applying larger first applications (60-70kgsN/ha) and this year's late spring definitely supports this.However, high sulphur products can limit first nitrogen applications so be ready to make earlier second passes if needed.
Winter barley
All feed crops should have received their first dressing – hopefully 50% of their total nitrogen following the new RB209 guidance. If not, crucially they should receive a significant amount now to maintain (or increase) tiller numbers and subsequent grain sites. In contrast, early nitrogen is common for malting crops so hopefully all first applications have been made – in fact several may and probably should have completed their programs. The balance should be applied around GS30.
Oilseed rape
Now that early applications have been applied, the focus moves to completing the programs:
To help extend the growing season and subsequent yield, the final dose should be applied as late as possible (around the yellow bud stage) but do watch to ensure the crop height doesn't interfere with accurately applying the fertiliser.
For those using liquid fertiliser, this can be applied later than those using solid.
​DON'T GET CAUGHT OUT: crops will move very quickly once conditions improve.
Spring barley
This crop is the most challenging when it comes to nitrogen rates and timings, particularly for those destined for malting. For the crops already drilled, aim to keep to your original plan in terms of rate and two-split timings (50% seedbed followed by 50% at GS13). Yield potential shouldn't have been significantly affected so grain nitrogen levels will hopefully be normal.
If you still haven't managed to get drilled you should look to revise your plans. Firstly, move the application earlier (completely in the seedbed) to help with grain nitrogen which tends to increase slightly with later drilling. The nitrogen rate should only really be reduced if you're certain the yield potential has been compromised. This can be very hard to judge but the below guidance from Scotland could help:
Reduce the rate by 1.5kg/ha per day when you are ten days after your optimum sowing period. E.g. if we said the optimum period finished in early April, your reduction would commence in mid-April.


The ongoing challenge always with malting crops is to balance the need to increase yield against achieving the grain nitrogen contract.
Phosphate
Try to apply fresh water-soluble phosphate fertiliser to all your spring crops if at all possible. With time not on their side, anything you can do to encourage establishment will be a huge benefit as the weather improves in the coming months.
Planning ahead
With conditions so varied across the country, be sure to review all nitrogen plans again towards the end of April and in the remainder of spring.
For further support with any of the above, please get in touch with your Frontier contact.