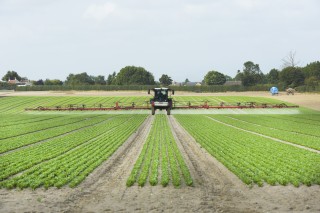 Our ever-popular sprayer operator days will soon be upon us. As well as a great lunch and sufficient NRoSO points to ensure status on the register is secured, the events give farmers and sprayer operators valuable insight into current industry issues and the chance to discuss guidelines and best practice recommendations. Conversations are always topical and, more often than not, result in interesting debates.
Water pollution
This year the subject matter centres on the highly contentious subject of water pollution. This topic often involves a considerable focus on the risk of nitrates reaching water and this year, with the onset of the new Water Rules (April 2018), this must not be overlooked.
The Water Rules were designed to heighten the awareness of pollution and soil erosion risk; enforcing specific nutrient applications which match the crop need (not only nitrogen, but also phosphate, potassium, magnesium and lime). There is now a requirement to test soil for these nutrients at least every five years in order to determine the correct application of nutrients.This is a major step away from purely being seen to be 'best practice'. Three governing bodies (Rural Payments Agency, Environment Agency and Farm Assurance) are now responsible for policing nutrient planning.
Plant protection products
More specifically, the main content of this year's NRoSO meetings will concentrate on plant protection products (PPPs) and the associated pollution risks. Such products are obviously pertinent to sprayer operators.
SMR 10, the rule governing PPPs in legislation, is the 'iceberg in the ocean' that is Cross Compliance. SMR 10 covers only half a page in 'The Guide to Cross Compliance in England 2018.' The most concise rule in the book, it merely refers the reader to follow the Code of Practice for using PPPs in order to ensure compliance; a suggestion which implies simple conformity.
In actual fact, this reference relates to a manual 168 pages in length Generally considered as a guide to best practice, it's worth remembering that it is statutory legislation after all.
Topics for discussion
The NRoSO days will address the following topics:
Pesticide storage – the industry's best practice guidelines for the storage of pesticides. We'll encourage you to think about things such as the following: Have you got a warning triangle displayed on the store? Are your shelves metal (a more sensible option than wood)? Is there sufficient room to store pallets of slug pellets? Don't forget – the latter are PPPs and must be treated accordingly.
Water protection – methods of removing pesticides from water and examples of pollution incidents. Is your filling site away from drains and watercourses? Have you got a plan of the yard showing drains and direction of flow, as well as the locations of fuel, PPPs and fertiliser? Do you need to use a tray under the hopper to contain any spillages when filling up? Is the spillage kit still where you left it? All of these are important questions to ask yourself.
Technology, operator and tips – current application technology and a collection of top tips from Farm Sprayer Operator of the Year (FSOOTY) finalists.For example, we'll look at which nozzles perform best against drift and there will be the opportunity to share advice with others in the room to promote accurate application and safe transport.
As mentioned, attending a NRoSO meeting means that you will be awarded the necessary points to secure your status on the register and doing so each year means that no further points are needed.
MyCompliance
Frontier's MyCompliance department can give guidance on any of the above, as well as other subjects relating to Cross Compliance or farm assurance to ensure you remain fine-free. Please give us a call with any queries: 07795 111319 / 07786 661593.
I look forward to seeing you at an upcoming NRoSO day!