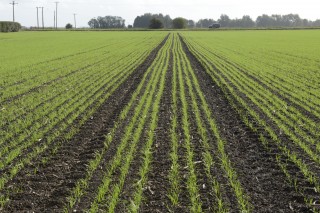 In the UK, we don't have a domestic supply of artificial phosphorous fertiliser and so are therefore reliant on imported sources of nutrient phosphorus. Part of this means that we often experience some volatility in pricing, usually influenced by fluctuations in currency, available volume, country of origin and – more recently – political developments.
Of course, phosphorus is a requirement within UK farming systems as it is a vital nutrient for crop establishment and it plays a key role in early root development. It participates in metabolic processes such as photosynthesis, energy transfer and synthesis.
​While the visual deficiency of phosphorus does not often occur, it is usually associated with compacted soil where poor rooting has reduced the amount of phosphorus taken up from the soil. In a maize or OSR crop, a deficiency may present as leaves turning slightly purple. This colouring is the result of a build up of sugars in the leaves and the production of anthocyanin (purple pigments).
Similarly, these crops may also appear stunted. However, this can sometimes be mistaken for nitrogen deficiency. To find the exact cause, we always recommend leaf/tissue analysis to identify the problem.
​The root profile (right) shows how critical phosphorus is for root development. The higher the concentration available, the greater the root growth and the visual response speaks for itself.
Difficult situations
When testing phosphorous levels, always start with a recent soil test to provide you with both mg/l nutrient and soil index, as this gives you an accurate guide to the level of nutrients in the soil. You can opt for self sampling using the traditional 'W' pattern or you can use precise and accurate sampling methods such as those provided by precision experts, SOYL.
With this data, alongside an idea of potential yield (offtakes), you can use AHDB's RB209 Nutrient Management Guide to calculate your recommendations. Remember: always make sure you consider the nutrients supplied from any manure applications.
Of course, following this year's harvest there needs to be some careful consideration. Yields were much higher than expected and, as a result, it's highly likely that more nutrients will have been removed than initially applied. Levels may therefore already be at a loss but you can easily calculate the cost to replace them. With thoughts now turning to harvest 2020, redressing the balance this autumn is particularly important.
Of course, there are conditions where phosphorus availability might be restricted and not just impacted by previous offtakes alone. Other reasons could be related to pH, where the availability of phosphorus to the plant is reduced in both acidic and alkaline soils; as demonstrated in the chart and graph below.

Wherever possible, you should maintain your pH at 6.5 – 7.0 for arable systems, although this isn't always a factor you can easily control. For example, some areas can have a naturally high soil pH that reduces phosphorus availability, while others have high levels of calcium, iron and aluminium – all of which react with phosphorus in certain conditions and can reduce its availability to the crop.
In soil conditions with naturally low phosphorous soil reserves, the plant may struggle to easily find the nutrient. If you create a really good soil structure it allows the roots to proliferate and find nutrient much easier, as well as improve the soil's ability to move nutrient up and down the profile and cope with periods of significant wetting or drying.
Finally, with the continuous challenge of black-grass and using later drilling as part of a control measure, we are more likely to be applying phosphorus in colder, wetter soils.Unfortunately, these two factors negatively affect a plant's ability to take up phosphorus.
How can we mitigate against these situations?
The first, and possibly easiest change in acidic soils would be to increase the pH to 6.5-7.0 as mentioned. Not only will this improve phosphorus availability but it will also increase that of micro and macro nutrients, while elevating microbial activity too.
In some soil types you can also increase organic matter levels. The incorporation of green/organic manures and cover crops will help soil structure and the soil's ability to hold on to nutrient, however, it is a long-term, slow change.
In circumstances of low organic matter content we often see low phosphorous soil reserves. In these situations, it's important to follow the recommendations within RB209 to ensure that we supply adequate phosphorus whilst building soil reserves.
Of course, as mentioned, there are some situations that just cannot be avoided and it is during these that applications in smaller, more regular doses should help to improve crop uptake, avoiding one single large dose. Additionally, the use of a protected phosphorus such as Avail or Nutricharge would also be recommended. Phosphorous protectors are long chain organic polymers that have a very high cation exchange capacity and so, when co-applied with water soluble phosphate (e.g. TSP, DAP or MAP), they prevent the risk of nutrient lock-up in challenging situations. This means that more of the phosphate is available to the plant for longer to improve crop uptake.
Establishment improvement
An increase in root growth and establishment across multiple crop types shows the value of having plant available phosphorus at these stages:
Yield improvement trial results
Wheat trial, Wickenby, 2018. (Yield increase above control programme)
The results reinforce the importance of applying phosphorus as close to planting, or to the future growing crop, as possible. Additionally, they show that rates must still be maintained even when placed at planting.
​OSR trial, Wickenby, 2017
The use of protected phosphorus in DAP costs an additional £7.63/ha and has given an increase in the OSR yield of 0.22t/ha, with a return of £72.60/ha (ex farm price of £330).
Overall, it's important to be aware of what soil conditions you are dealing with on your farm or in your field when it comes to managing phosphorus availability. Knowing this information means that you can then make any necessary adjustments to improve the availability and efficiency of phosphorus, as well as all applied nutrient and doing so will ensure you decrease any environmental impact while improving yield, quality and – ultimately – increase margins.