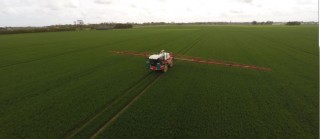 While everyone understands the chemical disposition of water as H2O, it actually contains an abundance of ions such as sodium, potassium, chloride, sulphate, calcium, iron, magnesium and carbonates. Those which are 'positively charged' are identified as cations and those which are 'negative' are known as anions.
These ions are present in the water in our homes and on farm and give water its three properties: hardness, pH and taste. Although harmless to us, they can actually have a detrimental impact to pesticide performance in the field.
In addition, the pH levels of water play an important role too. Water above pH7 – or hard water – can lead to a big reduction in the efficacy of pesticides. Notably, over 60% of all water supplies provide hard water.
How does water quality effect pesticide performance?
The cations that are present in hard water lock up the actives and make them completely inactive. Cations of calcium, iron or magnesium bind onto molecules, meaning they simply cannot perform.

In water where the pH is above seven, actives such as pyrethroids and phenmedipham become very susceptible to hydrolysis which leads to irreversible degradation, decreasing its efficacy.
Pesticides that are susceptible to water quality
​

Hard water

​

​

Alkaline Hydrolysis - pH >7 causing a % of the active to be inactive

​

DIMS e.g. Centurion Max, Aramo, Laser​
​ Phenmedipham

​

​Glyphosate and diquat

​

​ Pyrethroids

​

​SU's e.g. Ally Max and Atlantis

​

​
Phenoxy herbicides e.g. CMPP and 2,4-D

​

​
How can you mitigate the effects of hard water and high pH?
Good practice is to carry out water quality tests and see if the water can be improved to increase the performance of the pesticides being used. Water-hardness test strips are easily accessible and give quick and easy-to-read results.
Once an issue such as hard water has been identified through testing, some of the effects can be mitigated by adding a water conditioner to the mix. These work by improving the properties within the water, enabling the active ingredients to work as desired, not by directly improving the performance of the agrochemicals. Water conditioners are added to the water before any other product so that the water quality is improved before the inclusion of other tank mix partners.
An example of a quality water conditioner is Aquascope. The chelating agents within Aquascope bind with the cations in hard water, so when the actives are added into the tank they are protected from hard water impact. In terms of high pH levels, Aquascope also contains an acidifying agent that reduces the impact of alkaline hydrolysis, reducing the alkalinity of the water to nearer pH7 (neutral). The humectant properties within the product also maintain the aqueous phase of the spray droplet, which is particularly beneficial in hot conditions.
Dosatrons and Aquascope
​Most water needs to be conditioned before entering the spray tank. For example, a Dosatron works by cost-effectively pre-treating the water before agrochemicals are added to the spray mix, by sitting in the top of an IBC of Aquascope. It is vital that Aquascope is added to the water first to gain any benefits, and therefore by using the Dosatron it eliminates the opportunity for error in mix sequencing. Getting the mix sequencing wrong whilst using water conditioners could be detrimental to the water conditioner's effectiveness. Please click here for more information on how the Dosatron works.
Offer: When an IBC of Aquascope is purchased through Frontier (500, 750 or 1000 litres), you receive a free Dosatron. Speak to your Frontier contact for more information.
Hopefully, this blog has helped explain the importance of water quality and its influence on your pesticide performance.
It is vital that you don't look past this – it really could make all the difference to your field.
​​Emma Tyson
Technical Support Officer
For specific advice for your business related to this blog or any other aspect of crop production get in touch with Frontier.