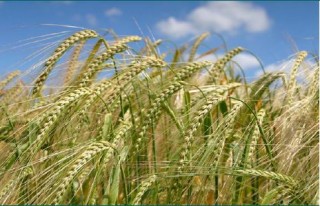 I had the privilege of meeting England 1966 World Cup goal scorer Sir Geoff Hurst at the beginning of my career. Sir Geoff was giving an after dinner speech at an awards ceremony during my time at Bishop Burton College. One of the things he said to us was: "Go out and be the best you can be in your chosen field and never give up." These words are as relevant to me today as they were nearly fifteen years ago.
Agriculture is a great industry for recognising and celebrating individual talent, effort and achievement; as well as encouraging innovation and good practice.
It may be surprising then that 'uncertainty' has become a bit of a cliché when discussing our future. Changing weather patterns, political climate and currency swings create uncertainty, not just in knowing when to market produce, but also when to purchase inputs. This makes a strong partnership between farmer and advisor ever more important; shared values and experience will ensure we are riding the crest of the wave together as we adapt to a changing landscape.
As a farm trader, I bring crop production and market expertise to my customer relationships which is strengthened through the back up and support of my colleagues at Frontier. Each day sees regular contact and knowledge transfer between Frontier agronomists, the 3DThinking trials team, traders, transport/planning and our support team; this provides a fantastic environment in which to learn, be creative and enables us to provide tailor-made marketing and input solutions.
​Finding the right home

Last week, my colleague in the south, Ollie Wilson noted the importance of bringing pool marketing into forward selling strategies as just one way in which we can counterbalance uncertainty.
Equally, partnering the right variety and quality to the right home has never been more important. The dynamic of reduced UK wheat export activity this year has opened up conversations to new UK destinations outside typical marketing regions. 'Low grade' Group 4 soft wheats have benefited from the spill over in demand for biscuit wheats, whilst feed wheat is currently travelling at a premium to the North West from counties such as Hampshire and Somerset.
A strong awareness of consumer demands and variety preference can be the difference between breaking even and capturing a profit. Within Frontier, our strong consumer relationships enable us to provide access to many markets and put forward the right advice on corresponding varietal choice.
Thinking ahead
This time of year is an important time for planning. Assessing which varieties look good in the ground, which gave you the least headache in terms of establishment and which new varieties may be better suited to your local market?

Back in December, Chris Piggott gave us our first look at the 2018/19 RL Lists, noting some of the key varieties to watch this season. Our new #3DThinking demonstration site launched last year at #FrontierSouth site Malshanger and is a great venue to take a look at some of these wheat varieties. Spring barley variety choices for crop '18 have, by and large, been made. However, Malshanger is a centre of expertise for spring barley establishment. Extensive trial work is underway to help us to better understand the tolerances of each variety. This year, alongside our full spring barley variety trial, we will look to include fungicide management, nitrogen response, seed treatments and crop management as part of our #3DThinking development work at Malshanger.
Building the right team around your business is a basic requirement. Your local Frontier contact can open the doors to specialist expertise to help you challenge the status quo and provide new thinking to your business.
With the wise words of Sir Geoff Hurst in mind and as we all strive to 'be the best in our field' (pardon the pun), we have several events taking place across the #FrontierSouth in the next few weeks. Join us to link up with crop production expertise in your local area:
#3DThinking seminar – Malshanger Tuesday 20th February
Grower discussion group Wednesday 7th March (to book a place, speak to your local Frontier contact or keep an eye on our website events page.)
We hope to see you there.
Richard Clappison
​Farm Trader