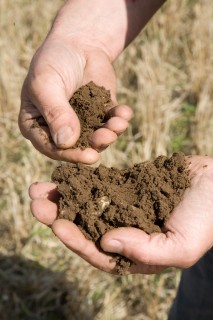 Recently, there have been huge variations in weather between the counties and over very short distances. A generalisation that it has been either wet or dry wouldn't necessarily be true for all.
With that in mind, I want to take a look at the weather and the influence this has had on soils and cropping over winter.
In Herefordshire and the three counties, it had been relatively dry up until Christmas. Because of this, drilling continued late into November and crops in general have since established well. While early drilled crops benefitted from warm soils and good root establishment, those crops which were later drilled may require fresh P & K to help rooting systems establish.
Until the rain has stopped and crops are growing again, it will be difficult to assess any nitrogen and sulphur leaching. Areas that have received higher rainfall will have incurred higher levels of leaching. Now is a good time to assess crop canopies and biomass, looking to target backward cereal crops with early nitrogen to help with tillering.
If any soils have been damaged at harvest or in the autumn, look to remediate if at all possible as this will give spring crops the helping hand they need. Soil structure and extensive rooting systems are key to ensuring yield and a crop's ability to cope with water stress like we saw last year.
The below Met Office maps show the lack of rainfall and higher-than-average temperatures for the UK during autumn and winter:


No two years are the same, but 2017 certainly taught us the importance of healthy soils and good rooting systems in weathering the ever-increasing unpredictability of rainfall events.

For more advice and information from the team, visit one of our local three counties 3D meetings next week on the 13th & 14th February. Click this link to register attendance at your local site.
Fergus Hawkins
​Agronomist

For specific advice for your business related to this blog or any other aspect of crop production get in touch with Frontier.