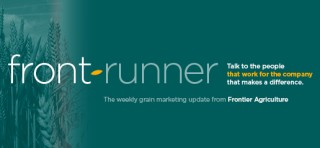 WHEAT
This week we have seen significant international trade, with North African countries making sizeable wheat purchases for delivery during February and March. Initially, Algeria confirmed they were buying 550,000 tonnes of optional origin wheat. This lifted European prices, as the French have supplied over 80% of Algerian imports so far this season.
Egypt held a tender following this and, surprisingly, Russia dominated the offers made and secured all of the 300,000 tonnes bought. The volumes offered and the lack of change to prices on their previous sales was somewhat unexpected, as many were under the impression that Russia had exhausted its nearby export supplies.
The US Department of Agriculture (USDA) should be releasing their January report today, containing their updated estimates for world supply and demand. However, the partial shutdown of US government offices is causing their data to be unavailable. Markets will be left searching for alternative sources of information to help them establish any fresh price direction.
Deep snow seen protecting wheat crop
Deep snow across Eastern Europe, Russia and Ukraine is set to keep winter wheat crops protected from severe frost for the foreseeable future.It would seem likely that we will need a spring weather related issue in these areas to act as a catalyst for any rise in new crop wheat prices.
Domestic wheat prices eased lower this week as farmer selling volumes increased, giving liquidity to a market that has been stuck in a narrow range for some time. Milling premiums are also lower. The current UK balance sheet suggests we have a wheat surplus of 650,000 tonnes and, with limited exports to date, current prices (which are £20 per tonne over harvest prices) look very attractive.

---
BARLEY
Malsters and brewers well covered
It has been another quiet week in the barley market, with many traders only just returning. Malting barley vessels continue to leave the UK but most of this business is historic. The market is generally very quiet, but nominally EU malting barley prices continue to drift, with malsters and brewers seemingly well covered.
Propino continues to command a premium to other spring malting barley varieties, especially in East Anglia. This premium is due to some brewers only taking Propino and also due to the fact the variety has produced, on average, higher nitrogen levels than varieties such as Planet. At this time of year, it is imperative that malting barley in long term stores is being monitored to make sure that germination does not deteriorate. Please speak to your farm trader about testing samples.

---
​OILSEED RAPE
Trade restrictions easing
Domestic values remain stuck in a narrow range, with UK farmers holding onto remaining stocks of oilseed in the hope for better prices in the second half of the marketing year. Supporting this is the improving position on US soybean exports to China but it is felt that this has come too late to avoid a huge stock build in the US this year. It is also evident that China has made itself much less dependent on imported oilseeds in recent months.
Looking further ahead, the prospects for the European 2019 harvest looks good. It is early days but crops are progressing well through the winter in Western Europe and, further east, the danger of any winter kill is limited by good snow cover. Ukraine has confirmed an increase in OSR plantings of 26% following good yields and profitability from the 2018 harvest. It is anticipated that they will be keen sellers into the EU towards the end of 2019 before new VAT regulations kick in from the start of January 2020.
---
PULSES
Old crop trading has made a slow start to the new year. Farm stocks are at low levels for this stage of the campaign as a result of lower yields and the keen demand for the better quality lots for early season exports.
Values for all grades have plateaued in recent weeks, with compound inclusion limited by the relatively high price of feed beans. Demand for human consumption lots has eased as shipping programmes near completion. Attention is now turning towards new crop and the prospects for prices for next season. It is likely that pre-harvest buy-back contract terms will be more aggressive for new crop but it remains to be seen whether there will be increased spring plantings with the current high prices in old crop markets. Frontier buy-back terms are now available.
---
FERTILISER
This week we saw the first offer of 2019 from CF Fertilisers that is slightly more favourable then before the Christmas break. Nitram is offered February and March but a very limited tonnage for January is also available. NS grades are offered for March only - please call your Frontier contact to discuss options.
The market remains flat but with no downside looking possible. Stocks are low in the UK, with replacement working out much higher due to exchange rates (£/$) and the chance of getting new product in time for usage very slim. The most viable way of supplying urea is in large 20,000 tonnes plus cargos and, although we have seen a large reduction in the volume. imported shippers don't want to take the risk.
Both grades are firm due to replacement costs with current exchange rates. Please discuss requirements with your Frontier contract and stay ahead of the next rise.
With the backlog of products due to production issues and the delay in buying replacement stocks for the UK due to exchange rates, we are already seeing issues with logistics. Our advice would be to get the products you require covered very soon to ensure it is on farm when you need it.
---


View markets, set price alerts, manage contracts and take advantage of extended trading hours with MyCropMarketing, Frontier's online grain marketing platform.