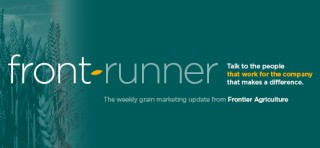 WHEAT
Encouraging price rally for UK wheat
After an initial bearish start to the week, UK wheat prices eventually staged an impressive four day rally. Helped on by the weaker sterling and higher continental future prices, London futures gained £4 per tonne in a market was minimal trading activity.
Consumers have good cover and there is little to justify this price increase other than a few logistical challenges. It is therefore a good opportunity for farmers to make some sales and take advantage while it lasts.
French wheat futures rallied this week, buoyed by fresh export hopes. Next week a vessel is expected to arrive in Dunkirk to load 60,000 tonnes of French milling wheat destined for China. This is thought to be the first shipment of this kind for almost five years and is encouraging given the high French wheat prices and freight costs.
China is the world's largest wheat producing country and carries significant stocks. The USDA see this year's China wheat output hitting 132.5 million tonnes, which is more than enough to meet its consumption needs of 123 million tonnes. The strategic stocks are significantly higher than this, now seen at over 143 million tonnes. Despite this vast stock China is still seen to be importing up to 4 million tonnes.
US grabs Egypt's business
This week, Egypt bought 240,000 tonnes of wheat for January shipment, with half of it booked from the US. Russia and Romania covered the other half of the tender with 60,000 tonnes each. On a FOB basis (loaded at port), US wheat is around $12 cheaper but is hindered by freight rates that are double the amount that Russian and Romanian shippers will commit to. This will encourage US markets where the export pace is running 21% behind last year's. However, the scope for any significant price increase is unlikely. Russia offered 650,000 tonnes in this tender, with prices extending over a $10 range.
---
BARLEY
It has been an extremely quiet week for malting barley, with little fresh news resulting in a small drift in prices. Domestic prices remain attractive compared to export values and a premium of around £5/t has emerged for Propino over Planet in East Anglia this week.
Take cover whilst feed markets are supported

Feed barley values have been under pressure this week as barley struggles to keep its place in domestic rations due to feed wheat being a competitive substitute. However, feed barley values remain strong and we would encourage growers taking some cover at current levels.
---
​OILSEED RAPE

Continued pressure for the European market
The European rapeseed market continues to come under pressure, with Paris' future markets losing 3.5% of their value over the past couple of weeks. Weaker sterling has helped offset some of this damage but domestic supplies are still slow in coming forward.
Little prospect of a firming market
With a firm market unlikely, imports are continuing to arrive into Northern Europe, with Canadian sellers becoming more aggressive and Australian new crop not far away. This all points towards a large stock carryout at the end of this season and little prospect of a firming market in the short term – unless Brexit can deal a further blow to the value of sterling.
---
PULSES

Old crop feed beans are now trading in a very narrow range; between £215 and £220 ex farm for November/December collection. The prospect for post Christmas collection is not looking very bright as there is limited consumer demand and, in relative terms, beans are quite expensive compared to other raw materials.
We continue to see strong demand for human consumption beans although, in the past week, sellers of Australian beans have lowered their price ideas by AUS$50 to $70/t. Despite this, UK beans are still competitively priced in Egypt but the buyers are holding off as they continue to assess bean quality differences from the Baltic, UK and Australian new crop supplies.
---
FERTILISER
The market has certainly taken a winter break this week. The European Commission has amended import duty tariffs for Russian Amonium Nitrate from €47-t to €33-t. In 2016, the European Union imported 116,000 tonnes of Russian AN, around 1.5% of the total market share. With this reduced import duty tariff, some Russian AN may come to the UK.
In other news, India concluded its purchase of 1.8 million tonnes of granular urea for arrival prior to 9th January. CF Fertilisers and Yara have continued with their current pricing policy and, given that usage in the UK could be 8-10 weeks away, any move in price is looking unlikely in the short term.
The wetter weather has probably ended any spot PK business for application but talk of increased potash and phosphate values should keep interest in the markets as we move closer to the spring. Spring demand usually puts pressure on the blenders meaning they are less likely to drop prices, especially given the open autumn and the increased plantings.
Speak to your Frontier contact for pricing.
---


View markets, set price alerts, manage contracts and take advantage of extended trading hours with MyCropMarketing, Frontier's online grain marketing platform.