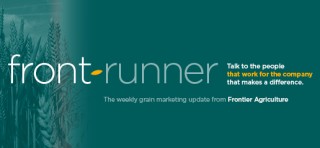 WHEAT
Russian wheat production set to fall
Adverse weather conditions may impact on Russian wheat production for the 2018 harvest.Analysts see a reduced area drilled and lower yields leading to a crop of 72 million tonnes, notably lower than last year's record 85 million tonnes. If realised, this would cut the amount Russia would be able to export by over ten million tonnes and change the dynamics of global trade. This season, Russia has been dominant and is expected to ship 39 million tonnes of wheat, which is more than their total production in the drought year 2012.
Another of the world's major cereal and oilseed exporters could see their 2018/19 output potential fall. With crops being drilled, the weather forecast for Western Australia shows below average rainfall in the coming months. If production levels are impacted – coupled with the potential cuts in Russian and US crops – world wheat prices should find support. In its May world supply and demand report the USDA will publish its first estimates for 2018/19.
For no readily identifiable reason, US wheat futures rallied mid-week giving additional support to our domestic market. New crop London wheat futures climbed to six-month highs. Meanwhile, UK old crop prices remain steady reflecting the tight balance sheet, with milling premiums extending further as millers sought cover for the last quarter of the season.
---
OILSEED RAPE
No significant price moves
This week saw European and UK oilseed rape values moving sideways, with a generally bearish direction.
The Argentine soybean crops are now more than 50% complete, which doesn't leave much room for total production decreases. European and UK farmers are still holding large stocks of oilseed rape as they wait for the illusive £290/t+ value.
The main factor in this week's local rapeseed market has been fluctuating sterling/euro exchange rates, which showed potential for good UK values earlier in the week but have tailed off to lower levels (stronger sterling) towards the end of the week. French Matif rapeseed futures have decreased €9.00 this week, reaching (May18) €330.00 at the time of writing.
---
PULSES
Old and new crop values remain strong
Old crop bean markets remain stubbornly firm as demand from the compound feed industry continues. With cooler and wetter weather on the way, this will continue into May.
New crop bean values have also been stronger this week as wheat futures have risen and, with the continued uncertainty over spring bean plantings, traded volumes have been very limited.
---
FERTILISER
Weaker European nitrogen prices have arrived just in time for the grassland market. CF Fertilisers have reduced nitrogen and high-N compound prices to reflect this. With the spot market likely to be busy, we would advise ordering product as soon as possible to ensure delivery in time to apply.
Imported nitrogen stocks remain low until mid-May when new ships arrive.
The drop in price from CF Fertilisers isn't the new season starting price, so importers are keeping an eye on the next move before they commit to importing volumes and if indeed it's competitive.
New season urea offers are starting to happen for delivery to farm in the summer however, with quality unknown and the recent weather conditions, many are holding off to see what CF Fertilisers do on ammonium nitrate.
With oilseed rape flowering fast and not all nutrients being taken up in some places, we advise growers to look at Oil Seed Extra foliar application. Please talk with your Frontier contact for more information.