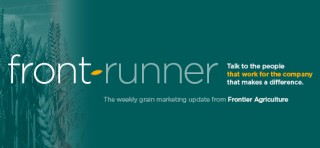 WHEAT
Production losses impact prices
European markets took fright this week, following analyst trading houses citing their expectation of further production losses throughout EU wheat crops as harvest gets underway. The price reaction has been a shock for the market, with London wheat futures for new crop swinging higher by £13 at its peak since last Friday. France and Germany – both major exporters – look set to realise smaller crops than the market envisaged only weeks ago.
The UK may not be immune to seeing smaller than expected crops also, as hot and dry conditions look set to persist for at least another week. This has the potential to result in a wheat harvest date much earlier than seasonal averages. Today's latest data – released by the AHDB – has tweaked the UK wheat planted area lower, citing a switch to oilseed rape and curb in plantings relative to black-grass control being the main driver. Whichever way it's viewed, this represents a decline in production in an already tight production scenario.
Short term price support remains intact until tangible yield data becomes freely available across Europe. This leaves markets fuelled for volatility for the foreseeable weeks to come.
---
BARLEY
Harvest is just getting underway in England. However, it has been a slow start with hardly any crops ready and many growers deciding to be patient as a more settled forecast is expected next week. It is still too early yet to draw conclusions from early samples and, as expected, we have seen some variability in yields and quality at this very early stage.
European malting barley prices moved up considerably this week, with uncertainty from growers about yields and quality in several key malting barley areas of Europe, including the UK. This was further fuelled by a number of large European brewers looking to enter the market and take cover in a market that was not offered, driving values firmer. Premiums are at attractive levels, and malting barley harvest should be prioritised.
We anticipate plenty of variability, so suggest getting malting barley sampled to understand the quality and to enable the best marketing decisions to be made.
---
​OILSEED RAPE
All eyes focus on Europe...
Rapeseed prices have increased significantly as the market has been focused on the European harvest and the declining production outlook. Harvest has started and yields through central and Northern Europe have been coming in slightly down on last year. Northern Europe and the Baltic states have seen challenging spring conditions followed by a prolonged period of warm summer weather which has pushed yields lower.
Yesterday, Oil World followed Strategie Grain and cut the EU28 rapeseed crop to 20.64 million tonnes, down from last year's 21.8 million tonnes.
Perhaps the one bright spot so far has been Ukraine, where yields have been described as reasonable. Statistics Canada increased the planted area of Canola to 22.7 million acres – one million higher than their April forecast. Weather there is seen as beneficial to crop development.
The world price matrix for oilseeds has changed considerably this week. Canola is at a large discount to European Rapeseed prices and will displace Black Sea oilseed rape into Asian markets – U.S Soybeans are even cheaper. At current prices all the exportable surplus in the Black Sea will head to Europe and possibly more soybeans also.

---
PULSES
As the hot weather continues, bean crops are under further heat stress pressure. Another week of this will certainly reduce yields, especially in spring crops.
On a positive note, later flowers will not produce pods so the plant's energy and reserves will all go into seed production.
Market values continue to follow wheat prices up. However, this is not helping the competitive value of feed beans in compound feed rations, as other mid-range proteins are relatively cheaper. Therefore, demand for beans will be lower.
---
FERTILISER
Liquid prices expected to change
Fertiliser trade has started to slow, as combines begin appearing in fields and thoughts turn to harvest. Most activity this week has been focussed on liquid buyers securing tonnage for both autumn and spring tank fill at the first offer price from the manufacturers. Speculation is that these initial prices won't last until the end of next week, so anyone with tonnes still to commit should be in contact as soon as possible.
New November price lifts Nitram
The solid market, whilst quieter than previous weeks, has also seen CF Fertiliser's latest price move. October terms were withdrawn early in the week, only to be replaced yesterday with new levels for November movement. Buoyed by continued strength in the granular urea market and firming grain prices, the November price now pushes Nitram above £250 per tonne.
Still limited activity from importers on both AN and urea, as uncertainty around currency and strong demand with higher values is keeping most product on the continent.
As reported previously, other fertiliser materials such as MOP,TSP and DAP are all under pressure, with higher replacement values being quoted by most importers/blenders. With rape establishment just round the corner, contact your Frontier representative to secure delivery of DAP in good time.
We have been discussing the need for sulphur at our summer 3D open days and have a range of products still available for this essential nutrient, including a range of PK + Sulphur grades made with Polysulphate.