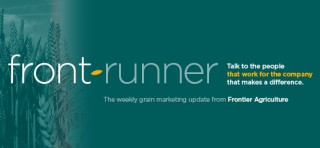 The absence of any significant consumer demand facilitated a further £5/t drop in futures and delivered prices this week. To some extent, this season the UK wheat grower has been sheltered slightly from rock-bottom global prices because of currency but UK markets followed the rest of the world lower this week. Due to the disparity in official UK supply and demand figures, there is still uncertainty as to how tight stocks could be at the end of the season. As such, the UK could well price to import before the season is finished but, for now, it feels domestic supplies will continue to feed the reduced national demand.
US futures hit contract lows
Despite widespread freezing conditions and rumours that export business is picking up, Chicago wheat futures made fresh contract lows this week. Funds keep selling US wheat futures and now hold a short position of around 13 million tonnes, which is indicative of their view that the market will continue to slide. Until we see any meaningful data that the USA is exporting wheat or that the freezing conditions have been impactful to growing crops, it feels like global prices will continue to slide.
---
Feed barley values continue to decline
As UK exports of barley draw to a close for now and the Brexit deadline at the end of March moves closer, feed barley values continue to fall. Significant volumes of barley appear to still be unsold and merchants are looking for domestic bids but sales opportunities remain scarce. On a positive note, barley is now offered at a significant discount to wheat; up to £20/tonne in some parts of the country which should encourage end users to use a bigger proportion in the ration. Unfortunately, the lack of any serious winter weather has limited new feed demand for now. The only remaining question is how much cover the UK compounder has in the late spring/early summer period.
Malting barley trade remains subdued
With the UK maltsters well covered with old crop barley for this season, malting barley trades are few and far between. After a period of settled weather, spring barley plantings in the UK are well ahead of usual timings. In addition, recent rains have meant the crop should get a good start. Reports from the continent are that the French crop is now all in the ground and has also had rain in the last few days. At the moment, the prospect of a large European barley crop is certainly on the cards for this summer.
The Frontier barley pool for crop '19 is still open and min/max contracts are available for spring malting barley in many areas. Please talk to your farm trader for details.
---
It has been another week of low domestic prices and, unless exchange rates help out, it appears that the only hope for old crop long holders is a supply problem on new crop. Currently, EU-28 rapeseed production for crop '19 looks to be sharply lower according to a report from OilWorld. They estimate a drop in the planted area from 6.82 million hectares to 5.57 million hectares but they also anticipate a recovery in average yields from 2.88t/ha in January to a more normal 3.25t/ha. However, overall production still looks to be dropping to 18.11 million tonnes, down from 19.67 million tonnes in 2018.
Old crop markets remain weighed down by the prospects of heavy year end stocks. Trade talks between China and the US continue to flounder, with President Trump now confirming that nothing will be concluded until any deal is 'perfect'. This week, China have also instigated anti-dumping proceedings against Canadian canola. This could lead to over one million tonnes of Canadian seed looking for a home in European crush plants where demand is compromised by strikes, shut downs, switching to soybeans and high Australian import volumes.
---
Old crop values likely to fall
By the end of March, the last bean cargoes will have sailed and values are likely to fall as the few farm parcels left to trade look to find a home. With bean values at such a high level, there is no fresh consumer demand and for the rest of the season we expect to see further declines in old crop prices.
New crop prices remain firm
Despite good spring planting conditions and winter beans looking in excellent condition, new crop values are remaining firm as buyers look to take in some of their short positions. However, growers are reluctant to sell until we start to see the spring crop coming through the ground.
---
The gap between imported AN and UK AN proved too large this week, as CF Fertilisers reduced its Nitram price to stay close to imports for the next few weeks. Imported AN is down mainly due to slow European demand and firm sterling. As the end of March approaches, importers will need to decide if product can be shipped in light of Brexit uncertainty. Retrospective duty or costs will be very difficult to collect after despatch to farm and so may be a blocker to trade. As a result, now could be a good time to source your nitrogen.
Urea is unchanged from last week which suggests we may be at the bottom, or very close to the bottom, of this spring's deals. Speak to your Frontier contact for more information.
The current market is all about supply, with the early spring and limited provisions from UK producers. Bookings from the blenders depend on various issues, with some sites short of raw materials and some areas struggling to find transport. Prices are unchanged from last week.
---


View markets, set price alerts, manage contracts and take advantage of extended trading hours with MyCropMarketing, Frontier's online grain marketing platform.