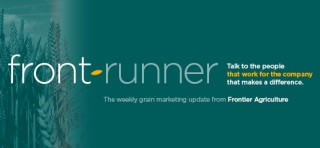 Dry weather for most of the week led to good harvest progress being made into quality wheat in the southern and eastern counties. However, this has now stalled as low pressure weather systems take charge for the weekend. Data is limited at this point but high yields are a significant feature so far in this season's campaign whilst quality seems to be more variable, with proteins swinging between 2% to 3% in similar geographies. Markets need time to digest this information but, if harvest progresses north in a similar vein, the UK balance sheet will have a large surplus and will need to rapidly seek export sales to reduce the excess UK wheat supply before the Brexit deadline.
Uncertainty brings opportunity to marketing
Sterling's weakness has provided price support, putting the UK firmly in the sights of many world shippers as UK wheat remains one of the cheapest origins in the world. With so many uncertainties associated with Brexit and with the expecting looming crop, we can expect to see markets remain under pressure during this period.
---
The winter barley harvest is almost complete in the southern half of the UK. As harvest contracts start to move, an increasing number of farmers are finding greater tonnages to market as a result of the high yields, which the Agriculture and Horticulture Development Board (AHDB) estimates at 8.1t/ ha for the first 50% of the total winter barley area. Harvest further north – including Scotland – is underway, however, an unsettled forecast is likely to disrupt progress.
Exports to Europe are continuing from ports on the south coast right up to the Humber at a high pace, with barley exports likely to continue this trend until the end of October. Fundamentally, UK barley export prices are being supported by weaker sterling which has lead to strong demand from the European Union. As a result of this, barley has reduced its discount to wheat, particularly in the south.

Spring barley harvest is now well underway across southern and eastern regions, with the early signs pointing towards good quality. Nitrogen levels are lower on both Planet and Propino when compared with 2018, whilst there are no significant issues to report regarding screenings at this stage of harvest.
The market for malting barley remains quiet despite the UK being cheap against Danish and French origins, again as a function of weaker sterling. EU maltsters are well covered until October, with the lack of demand combined with strong export demand for feed barley pressuring malting premiums as a result.
With the wet forecast over the weekend, the levels of germination, fusarium and skinned grains will be monitored and an assessment on quality will be made next week.
---
The European futures market has consolidated this week as harvest draws to a close in the EU. The harvest in Ukraine and Southern Europe is complete and the first cargoes from these origins are arriving in crushing plants in Northern Europe.
Ukrainian production is forecast to come in at 3.3 – 3.2 million tonnes – still a record but down on pre harvest forecasts. Yields in Europe continue to underwhelm and market analysts are converging on a production number of 17.3-17.4 million tonnes.
Canadian and Australian canola crops are developing well and conditions continue to be favourable. Europe will need to import a large tonnage from these origins this season so market watchers are keeping a close eye on these developing crops.
UK yields continue to be variable but there are reports of better yields as the harvest moves north. Although we expect a lower crop than last year it seems likely that the crop will be bigger than pre harvest expectations and, with the weakness in sterling and relative strength in the MATIF futures, market price remains strong on farm.
---
Variable yields and evidence of bruchid activity
Bean harvest is now well underway in the South and East. Yields on winter beans are generally encouraging although the recent very hot spells have clearly prevented the top pods from filling so we are seeing a number of small seeds in each sample. Quality is also variable, with evidence of bruchid activity in most samples. Interestingly, on the early samples there are no bruchid holes as the adults have not fully matured but they are still alive and inside the bean and will emerge in store or in transit.
Market values have come under pressure this week as buyers refuse to bid for either feed or human consumption and as harvest advances and stores get fuller we expect to see further deterioration in values over the coming days.
---
It has been a relatively quiet week in the UK as farmers continue to harvest crops in between the rain showers. The nitrogen market remains unchanged from the previous week but there is a lot of talk around what may happen going into the autumn and winter. For many, it certainly felt like winter this morning.
CF Fertilisers and Yara continue to watch the European position which is much higher than the UK, while also keeping an eye on replacement raw materials. If they had to replace ammonium nitrate today and import into the UK, our market would be much higher. The sentiment now is to let the harvest continue; the next steps in the market will come along as and when. While we appreciate harvest is much more important today than buying inputs for next year's crop, it's always worth keeping a close eye on currency.
Last week we saw the potash price firm £15-£20 in a very short period – essentially overnight. Any products with potash in them have also firmed, with PKs being the first. This may well be the sign of things to come.
Worries around the lack of moisture in mid-August for OSR drilling have certainly gone away but applying starter fertilisers in the seed bed is still a must to get the crop up and away. Talk to your local Frontier contact for an update on the range of products we have available.
---


View markets, set price alerts, manage contracts and take advantage of extended trading hours with MyCropMarketing, Frontier's online grain marketing platform.