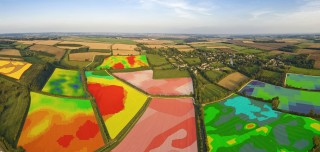 SOYL has been exhibiting at CropTec since it first started back in 2013. In the four times that it has been held since, the show has grown considerably and is a valuable chance for growers to talk to us in a focussed yet informal and relaxed environment.
CropTec is considered the "UK's leading technical and knowledge exchange event for the arable farming industry". There are over 170 exhibitors featuring this year, as well as various knowledge hubs, discussion panels, demonstrations and a highly-anticipated seminar programme.
As CropTec is held at the East of England Showground in Peterborough, I am the most local SOYL advisor to the area. It's therefore my responsibility to manage our presence at the event and, to be completely honest, I really look forward to doing it.
One of the biggest reasons I enjoy the event so much is because it's a brilliant platform for showcasing our latest developments. It's great to talk to people just starting out on their precision journey and I also get the opportunity to catch-up with several of my existing customers. I always enjoy chatting to them about what else they are looking for and how SOYL can help to support their precision farming strategy.
For me, CropTec is also great for exploring other new developments taking place in all different aspects of the agricultural industry. Learning about the latest technological innovations always gives me food for thought and encourages me to think about how our SOYL services can work alongside them.
What to find on the SOYL stand
This year, we'll be demonstrating our precision data-management tool, MySOYL. Specifically, we'll be highlighting the ways in which it helps to manage your field data and how, in turn, this can support you to make simple but efficient decisions to safeguard your main asset – soil. With a tremendous interest in soil health, all of our services can be 'layered' and analysed to truly see the big picture, helping growers to understand how routine farm practices are impacting their 'natural capital'.
As well as MySOYL, we'll also be showcasing the latest updates to our field-scouting app, iSOYLscout. This is a powerful tool for any grower and, with new developments such as multiple device connectivity, it can be utilised even more effectively on farm.
Visit the team
If you are heading to CropTec, please do come along and say hello. As well as talk all things precision, we're also really excited to have an exclusive show offer too.
To find out more, visit us on 28th and 29th November at the East of England Showground in Peterborough on stand 1.90 in Hall 1.
Learn more about CropTec here or visit the SOYL website for more information about our services.