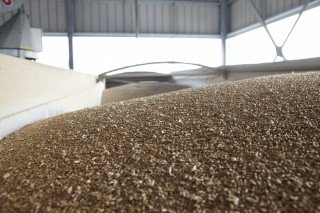 World markets:
US wheat futures continued to slide yesterday. The fund sell off that started with the USDA report last Wednesday night has continued into the start of this week, keeping the negative tone in wheat markets. The trade war between the US and China has returned to the headlines, as President Trump imposes new tariffs on the equivalent of £150 billion of Chinese goods. This is not going to help US markets turn around the current slide.
Australian wheat futures moved up to new highs after reports of weekend frosts – this is not ideal with the crops at the critical heading stage. We have mentioned before the importance of September rain for their wheat crop and, so far, it has been a very dry month with the ten-day forecast indicating that there is little chance of good moisture materialising. The Australian Bureau of Agriculture and Resource Economics and Sciences (ABARES) has reduced their export estimate to 12.95 million tonnes; down from the previous estimate of 15.2 million tonnes. This comes as the wheat harvest is expected to drop to an 11-year low. Argentina also has a lack of rain in the forecast for key growing areas.
Matif wheat closed marginally higher yesterday. The EU commission released its monthly update, keeping the overall EU wheat crop size unchanged at 128.77 million tonnes. They did drop corn yields around 1% to 7.49t/ha which would see production dip 0.8 million tonnes to 63 million tonnes.
Russian wheat exports now total 10.2 million tonnes for the season so far, which is 48% ahead of last year according to the customs service. Their wheat export prices have increased for the first time in six weeks and the government have tightened controls on quality cargoes; although they have said this is nothing to do with trying to slow down exports. The United States Department of Agriculture's (USDA) increase of the Russian crop isn't backed up by reports of spring wheat harvest progress, which is running behind with conditions still wet and snowy. Siberia is estimated to have harvested 2 million tonnes so far, which is down 64% on last year's pace.
UK markets
London wheat traded £0.65/t lower yesterday, with Nov 18 closing at £171.50/t; not helped by stronger sterling.
Defra's latest crop estimates showed an increase in UK wheat acreage for the first time since 2014, with the area pitched at 1.67 million acres. This represents a 1% increase on last year and indicates a crop of around 13.5 million tonnes; roughly in line with most of the trade's estimates. However, yields are still questionable with big variations reported from farm.