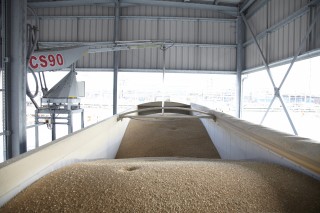 Disastrous planting conditions in the US continue to hamper progress. As of Monday, the reports were of 69% planted compared to the 96% average. It is difficult to quantify total crop losses until the final drilling dates and these vary in each state, however, there is already talk of 8 million acres of Prevented Planting insurance already claimed.
Elsewhere, the market is turning a blind eye to the large volumes of corn in South America and the Black Sea priced at huge discounts to that in the US. This will satisfy any demand in the short-term but, eventually, the US will have to compete.
US winter wheat ratings are up 3% to 64% good-to-excellent, versus just 37% last year. There are talks in the market of a record US crop, despite the widespread rainfall of late. Meanwhile, Russian/Ukrainian wheat development will be a significant watch-point over the next few weeks as the crops reach maturity. Russia's harvest begins late June/early July and the recent hot and dry weather could impact crops. On Monday, Russian agriculture consultancy, SovEkon reduced its estimate for Russian wheat output from 83.4 million tonnes to 82.6 million tonnes. This is still towards the top end of estimates.