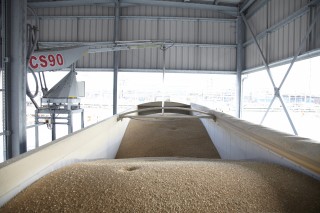 The USDA published their April World Supply and Demand report yesterday and, as expected, it held bearish data – particularly for corn.
World wheat production was put marginally lower at 732.87 million tonnes but falls in consumption saw year end stocks increase by five million to 275.61 million tonnes. This is just six million tonnes down on the year.
World corn production jumped six million tonnes, with increases seen for most of the major producers. Argentina, Brazil and Mexico were up, reflecting favourable growing conditions in South America and the EU was also raised to 63 million tonnes; although this is ahead of the estimate from EU analyst, Strategie Grain, which sees the EU crop 1.8 million tonnes lower. Global corn stocks were increased by 5.5 million tonnes, almost all of which belong to the US due to lower domestic consumption and exports. However, world stocks at 314.01 million tonnes are 26 million tonnes down on the year. With extensive flooding in the US delaying corn planting and the speculative funds holding significant short positions, this report had little impact and US corn futures closed higher following its publication.
Whilst US wheat and corn exports have been struggling, the EU export pace has recently improved following a bad start. Last week the strong vessel line up saw 490,000 tonnes shipped from the EU, taking the total to 14.982 million tonnes compared to 15.638 million tonnes at the same time last year. If this pace is maintained it will exceed analysts' targets and this is driving French old crop wheat futures which are now €8-9 higher than their recent low a month ago.