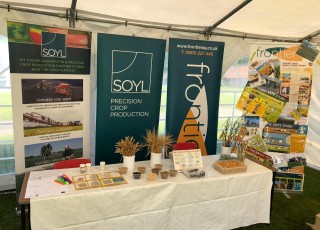 Yesterday, scores of farms around the UK opened their doors for Open Farm Sunday, an annual event organised by LEAF (Linking the Environment and Food) and sponsored by our parent company Frontier Agriculture since 2008.

The SOYL team across the UK supported a number of Open Farm Sunday events which our farmer customers were hosting.
What thousands of members of the public experienced yesterday was evidence of a technological and environmental revolution that is occurring on farms right now.
At the event where I was helping yesterday, I was speaking to one member of the public and as I talked him through the wide range changes that are taking place on his local farm he was really impressed and, I think, quite proud. His comments of, "I didn't realise our farmers were so forward thinking with technology." and "this is definitely a story that the public needs to know about; a UK industry that is moving forward," were fairly typical of those I heard all day long.
There were five major developments that my colleagues and I talked about and which really surprised the visiting public:
The use of imagery to manage crops.

Whether the imagery comes from satellite, plane or drone the trend to use data to make smarter decisions and target inputs is moving at a pace. This really created some interest and excitement. As one visitor put it, "When I see a tractor in a field I would never have imagined that it was being controlled so accurately."

The level of care for our soils and plants.

From the comfort of a car on the main road it is easy to imagine that the countryside maintains itself! At one of the events we showed soil samples and went through the steps we are taking to preserve and manage soil health. Visitors were fascinated by the level of detail that goes into managing each field and the many decisions taken to optimise each part of the field.

The passion for what we all do.

The traditional narrative that "farmers are never happy" is long behind us, thank goodness. At every farm that we supported yesterday there was clearly an unrelenting passion for growing food.

It's not just about feeding the nation

. Efficient and sustainable food production is vital for all of us but looking after the local environment around the cropped areas of fields is equally important to growers - a surprise to many visitors. Hedgerows, ponds and woodland all happily co-exist alongside our crops. Growers are carefully managing their land and working hard to encourage biodiversity.

The use of data and technology.

At one event we demonstrated

MySOYL

our online precision data management system. My colleague who was working at that event said that one of the visitors he was talking to worked for a well-known global IT giant and in her words "I had read about the AgTech bubble in the media but I had no idea that real farmers were actual using this type of analysis to help them farm."



Overall, it was a cracking day that we were proud to play a small part in. We have a great and developing story to tell about our industry's progress and ambition, Open Farm Sunday is just chapter 1 in that story!