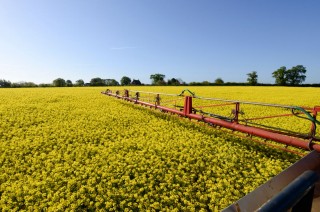 It has been somewhat of a harrowing year for the OSR crop, with wide spread establishment issues followed by flea beetle larval damage leading to a number of crops unfortunately being ripped up.The remaining crops have gone on to endure some late frosts during flowering but, thanks to recent rainfall and warm weather, the good crops are now coming towards the end of flowering and actually look full of potential.
However, it's worth remembering that it has generally been a very dry spring and this may have restricted the uptake of the fertiliser applied to these crops before flowering.
Have we seen this before?
We have - the spring of 2011 was also very dry and in that year many were worried that the conditions may have prevented some fertiliser being properly washed into the soil and taken up by the crop.So, with that in mind the big question is...
Can good OSR crops access enough nutrients to reach their full potential?
The better crops looked good coming out of winter and uptake of the early nitrogen applications were sufficient, so these crops have generally produced optimum canopies. However, as well as the requirement to build crop canopy, nitrogen is also required to extend canopy greenness and maintain function to increase yield.It is the later nitrogen applications that are responsible for this and these could have been impaired by the dry soil conditions.If an OSR crop runs out of nitrogen during the pod filling stage, it will senesce prematurely and this can significantly knock the yield potential.
For this reason I think it may be worth considering a foliar nitrogen application in the good OSR crops.This nitrogen will keep the pods and leaves photosynthesising for as long as possible to increase seed size and subsequent yield. If you have concerns, it could be a good idea to take a tissue test towards the end of flowering to find out if the level of nitrogen in your crop is starting to fall.
So when should I apply the foliar nitrogen?
For the best results, foliar nitrogen should be applied at the end of flowering (from 90-95% petal fall) using normal spray nozzles to coat the pods, stems and upper leaves. In five years of Frontier trials, Oilseed Extra – a specially formulated foliar nitrogen and micronutrient product applied at 200lts/ha (40kgs N/ha), has produced consistent, positive yield responses (average 0.52t/ha) over a standard base fertiliser programme of 200kgs/ha of nitrogen.
Can it be applied during flowering?
Yes - tank mixed with fungicides but smaller yield responses have been seen at this time. This is likely down to the coating of flowers that are subsequently shed which reduces the amount of nutrients taken up by the crop.
What was the outcome of the trials in 2011?
As you can see from the graph below, in the dry spring of 2011 we saw the biggest yield increase from Oilseed Extra – a staggering 0.81t/ha.
Now, I believe the most important thing is to reflect on our experiences this spring. Ask yourself some key questions: Have the dry conditions impacted on nitrogen uptake? Will good OSR crops access enough nitrogen to meet their full potential?
If you believe more is still required, an application of Oilseed Extra after petal fall will provide the extra to maximise the potential of your OSR crops.The consistent yield increases seen in Frontier trials over five years clearly demonstrate the potential benefit of this product.