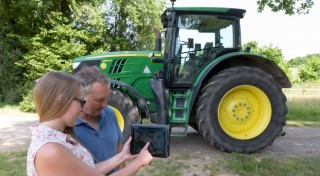 Oh, to be more organised! Much of what we see around the farm is reactive, driving past a field or walking across it and recording what you see. This is how crop development has been managed and monitored for a very long time.
However, there is a different way and it is based upon the information that you have already recorded across the farm.
Data analysis
This is a hot topic at the moment. We are continually hearing about machine learning, artificial intelligence and neural networks. But, before we get too carried away with what might happen, are there approaches to learn right now?
My answer would be yes. In fact, MySOYL gives you the ability to do a number of things:
Store all your digital spatial information
Import data from other sources
Question that data to highlight key areas

These three simple points allow any farmer to carry out simple data analysis and make it work for the farm.
A scenario
I know that a number of my fields are quite variable in their performance. I know this because I have been farming them for a long time. It's not necessarily information that I need to be told, but it would be useful to know how to investigate it further and understand whether it's a problem or simply, 'just how things are'.
Using MySOYL, I can access yield maps from last year. Doing so will likely confirm what I already know – that the performance of the field is indeed variable. So, no surprises there. However, using the interactive insight tools in MySOYL, I can select the parts of the field that didn't reach the yield point that I desired.
The yield point might be in line with financial performance, or just arbitrary, in that I want to increase yield. This shows me that more than 9ha of this field are performing poorly and are not where I want/need them to be.
Is this reflected in this year's crop? By looking at the near-real time biomass imagery I can check the current crop:
​Surprisingly, it's actually not what I expected. On 15th January, the crop is actually showing thicker on this area when I thought it was going to be thinner.
Now knowing this, I need to ensure that when I'm next in the field, I look at exactly this area to see what's going on. Using MySOYL, I can create a new scouting project in the iSOYL scout module and draw around the area I want to look at specifically. I can also include another area of thicker crop to the east and the poor headland at the bottom. Of course, I already know where the headland is (now that would be worrying!) but when I'm in the field it will remind me to look.
Finally, with the sync feature switched on at the top, my plan will also appear on my iSOYLscout app on my phone. So, next time I'm in the field, I'll have all the information to hand.
Now all I need to do is remember to look...