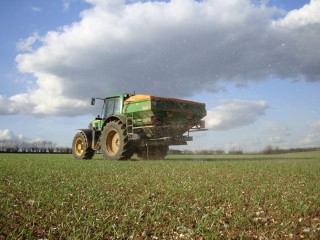 Sulphur is a key component of successful crop production; as important as nitrogen when it comes to planning nutrient applications. A multi-nutrient sulphate fertiliser range from ICL called Polysulphate is one that we've recently introduced to our range and is something I am talking about to many of the growers I advise.
Two new Polysulphate products, PKpluS and PotashpluS are especially of topical interest to the increasing number of farmers considering spring pulses on the back of dismal autumn weather.
Why is sulphur important to crops?
​Sulphur deficiency can severely impact overall crop performance in terms of yield and quality. Thirty to forty years ago this wasn't an issue, as significant quantities were deposited in rain every year from sulphur dioxide emissions into the atmosphere. However, today these emissions have been dramatically reduced (now less than 3% of the 1970's peak). Therefore, only very limited amounts of sulphur are now deposited from the atmosphere. Added to this sulphur can easily be leached, meaning the risk of deficiency is exacerbated on light, sandy soil in particular, but also on virtually all soils in instances of excess autumn and winter rainfall.
Clearly, something to be very aware of this year!
​Sulphur can only be taken up by plants from the soil as sulphate and given the risks around possible deficiency; the application of a sulphate fertiliser to help balance soil nutrient levels will almost always be required. Thanks to its mineral composition of potassium, magnesium, sulphate and calcium, Polysulphate is essentially a 4-in-1 product. They are naturally and organically produced and can contribute significantly to crop quality, helping to increase yields and overall returns.
Produced in the UK
Polysulphate is derived from the polyhalite layer of rock. The world's only polyhalite mine is Cleveland Potash in the North York Moors National Park. Mining occurs at a depth of 1,200m underneath the North Sea, with the the polyhalite processed into Polysulphate once extracted.
Suitable for use on all crops, nutrients in Polysulphate are released at a slower rate which means it can safely be applied very early in spring, without the risk of leaching, to provide sulphur to the crop throughout the spring uptake period.
Two new Polysulphate fertilisers
Polysulphate powder is now being used to make two new sulphate fertiliser products to help growers to efficiently and precisely deliver sulphur to all crops. They are particularly suited to all pulse crops.
PKpluS is a very efficient one-pass Polysulphate fertiliser for pulse crops. Made up of phosphorus, potassium, magnesium, sulphate and calcium (0.18.18 + 18 SO3 + 2 MgO + 15 CaO), it can help to reduce the number of applications required – particularly useful in a busy spring – while giving pulses a vital supply of sulphur which is released quicker than straight Polysulphate.
Being a true complex compound granule, PKpluS gives the added benefit of significantly more landing sites when compared to traditional blends, especially for P & K. This gives it excellent spreading characteristics (up to 36m) with no segregation in the hopper. It can be used in cereals, allowing the decoupling of nitrogen and sulphur; for example, where a stock of straight N may already be on the farm and it fits in very well on grass land for silage.
---
PotashpluS is a 50:50 Polysulphate and potassium chloride (MOP) quality compound that also includes essential magnesium and calcium (0.0.37 + 23 SO3 + 3 MgO + 8 CaO). It is a compacted material, with the 37% K2O consisting of 30% potassium chloride and 7% potassium sulphate. Like PKpluS, it boasts accurate spreading capabilities (up to 36m) and also releases sulphate quicker than straight Polysulphate.
Due to its make-up of multi-nutrients, PotashpluS offers a single pass option in pulse crops on high P soils and also allows the decoupling of nitrogen and sulphur where a stock of straight N is purchased.
Another key benefit is the ability to use PotashpluS to top up the sulphur on liquid and solid systems for oilseed rape where one sulphur grade is used. It complements systems where autumn DAP/TSP has been applied at drilling.
More choice will help pulse growers this spring
Polysulphate, particularly these two new fertilisers, means we can better tailor plans to suit specific farm requirements and adapt to changes to the planned rotation such as increased spring beans and peas next year.
Helping growers to create plans now and choose the right fertiliser for their crop will save valuable time in spring and, hopefully, deliver better results next harvest.
​Andrew Wilkin
Fertiliser Business Development Manager - North