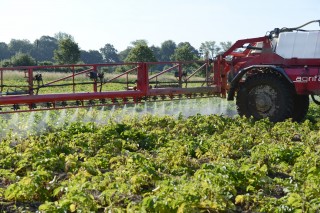 As is the case with most opening lines of conversation at the moment, I'm starting this blog with talk of the unprecedented weather we've had.
The summer of 2018 will certainly be one to remember, with exceptionally dry conditions hampering the growing season. Across the UK, farmers and growers have been under significant pressure to manage irrigation to help maintain yield and quality, with many struggling to retain sufficient water supplies.
While ware and seed potato crops can cope reasonably well in warmer temperatures, the prolonged dryness and water shortages have now put them under stress and yields look like they will be impacted considerably.As crops start to hit target size, many of my growers are finding decisions on desiccation difficult to make.
Diquat application risk
In many circumstances I've seen, the extreme weather has made it too dry to apply diquat, with its application now at risk of causing vascular browning and damage to tubers.
Up until now, Syngenta and Belchim did have a warranty in place prior to its use, whereby a Soil Moisture Defecit (SMD) must always be completed. The test requires growers to dig 5cm below the lowest tuber and squeeze the soil. If the soil falls apart it amounts to a test fail, with only 1l/ha of diquat allowed to be applied. If the soil stays together, it has passed the SMD test and higher rates of diquat can be adopted. In addition, while not on the label, Syngenta also require a vascular browning test to be carried out alongside the SMD test before any application.
In the past ten days or so, some areas of the country have seen 60mm of rainfall. In these locations, conducting a SMD may not seem so paramount but is still worth doing.
For the majority though, the impact of the dry weather has been severe and crops are now under significant stress. Because of this, both manufacturers have since withdrawn the warranty. Instead, field evaluation will be crucial, with growers required to be as active as agronomists to access their land and conduct SMDs and vascular browning tests to ensure desiccation is carried out effectively.
Assess soil type
Growers with soil maps, particularly those with scanning maps from SOYL, will find these especially useful for indicating different soil types. This data can serve as an invaluable guide for highlighting key areas in which to carry out SMDs.
If this information isn't available, several samples should be completed in various locations across the field. In circumstances where a field fails, it's advisable to consult the packer or processer to see if the crop can be left to bulk and wait for sufficient moisture to burn the crop down.
If desiccation is still carried out following consultation, please remember that you do this at your own risk. For example, you could potentially increase any damage if an application of Reglone is followed by imminent mist, light rain or heavy dampness. In addition, flail topping the crop is not a fail-safe alternative as this can still lead to vascular browning due to conditions being so dry.
Irrigated crops
While irrigated potato crops are likely to be less of an issue thanks to moisture still being retained in the field, it is still important to treat them in the same way as those which are unirrigated to ensure they pass the SMD.
No matter the desiccation strategy used, always be vigilant and carry out regular inspections to monitor tubers.
For more information on any of the above, or for tailored advice related to the conditions on your farm, please contact us.