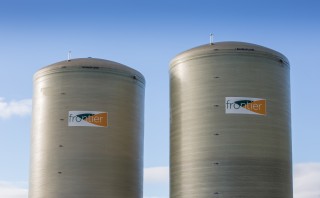 ​New season fertiliser will be upon us in the next couple of months. With many farmers caught out by this season's price rise, what can you do today to mitigate your risk?
What caused this year's price trend?
Global urea values increased by £60 per tonne throughout the season. China – the world's biggest producer – had reduced exports by almost ten million tonnes, due in part to emission concerns forcing the closure of many plants. Outside of agriculture, global urea usage has also increased which has influenced the domestic Ammonium Nitrate (AN) market. Today, we're approximately £60 per tonne above new season prices.
Despite continual price rises, UK-produced AN has held a superior position in the domestic nitrogen market this season. The lower value of sterling has increased the cost of imports into the UK, encouraging buyers to seek supply from UK producers. Instead of exporting at a higher price, CF Fertilisers – the largest supplier of UK-produced AN – chose to remain competitive in order to remain a chief influencer in the UK market. This has caused a shift towards more use of UK AN.
However, no year is the same.
Thoughts to new season
Reassess your nutrient requirements
With increasing pressure on input costs, now is a good time to reassess your current system. This will help to confirm your requirements ready for the new season and potentially highlight a more effective use of inputs, particularly when taking into account factors such as cropping, workload, bout width, farm storage and accuracy – to name a few.
With regard to bout width for example, it's imperative that you check the quality of your product to ensure it is suitable and supports accurate spreading. Liquid fertiliser is extremely accurate at all bout widths and is something you may want to consider converting to. The chosen product will also affect the number of passes needed and your overall workload. For example compound NPKS products can efficiently and accurately apply phosphorous and potash, with the nitrogen applications saving the need for extra passes with TSP, MOP or a phosphorous and potash (PK) blend. Also, ammonium sulphate can look an attractively priced product but its very low nitrogen and high sulphur content can add an additional pass, or force extremely high nitrogen rates for subsequent passes.
With a growing need for more nutrients such as sulphur and magnesium, the demand for alternative products is increasing. However, many growers still solely focus on straight nitrogen at new season; purchasing other nutrients at a later date.
The key is to consider all the nutritional needs of your crops to generate the best fertiliser programs for optimum results. For example, sulphur should really now be applied to all arable crops and intensive grassland. Furthermore, it's vital to check and investigate whether or not phosphorous and potash levels in the soil are adequate for optimum yields. Every field should have a recent soil result and applications adjusted to match crop offtakes. Remember, an application of fresh phosphate is a great way to fuel root growth and establishment.
Frontier offer soil and nutrition health checks to aid with the above and SOYL can support you with
variable rate
phosphate, potash, magnesium and lime applications to suit your soil conditions. You can also take advantage of their rotational P & K offtake calculator.
Flexi N
Frontier runs a fertiliser tracker – Flexi N – to help provide price risk management, spread delivery on farm, and ease cash flow through future payment dates. Our spring Flexi-N particularly helps those who cannot take delivery at new season.
The products included are:
Nitram 34.5%
Extran 33.5%
Axan 27N 9SO3
Single Top 27N 12SO3
Double Top 27N 30SO3
ASN 26N 35SO3
We're offering a free option to book your fertiliser through Flexi N today with the ability to change if wanted within the first five days of new season. Therefore, Flexi N is a great insurance policy against the volatility of the fertiliser market.
The graphs below show what Flexi N has achieved vs. the spot market over the last four years:​
With currency fluctuations and CF Fertilisers remaining at the forefront of the market, new season may follow a similar trend to last year. However, markets are increasingly volatile and unpredictable. By reassessing your requirements and using Flexi N, you can take a smarter approach to fertiliser.
For more information and support, please speak to your local Frontier contact.