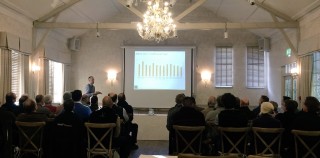 Just a couple of weeks ago, we drew our Winter Workshop series to a close in Hampshire. Our time on the road took us to a wide range of locations across the UK, including up to Dingwall in Northern Scotland, Stowmarket in the East, Worcester in the West and down to Winchester in the South.
In fact, the breadth of our travels can be summarised as the following:
18 venues visited
Over 1,200 growers attended
Over 800,000 hectares covered
180 presentations delivered


You can read my article that introduced the workshops back in November here.
Innovation
We pride ourselves on delivering innovative products to help our clients Make Every Hectare Count and this year's workshops focused very much on that concept. Each one provided us with a great opportunity to meet and speak with both current and future customers about getting the most from their farm.
The agenda started with my vision for 21st century crop production, based around improved care of our soils, data-driven decision making and a precision approach.This was supported with examples of how data analytics can help inform better decision making.
Colleagues then presented on a number of topics including:
Soil management/health
New thinking on magnesium
Variable rate nitrogen benefits other than those well-proven for yield
Variable rate growth regulators
Variable rate muck spreading
In-season options for scouting, weed mapping etc.
Precision farming options for grass
mySOYL new features from the last quarter and next quarter
New service launch – Precision Field Insight
We'd like to thank everyone that came along to our workshops and hope that those of you who attended found it as enjoyable as we did.
Upcoming blogs
If you were unable to attend one of our workshops, or simply want a recap on some of the information shared, we'll be publishing blogs on each of the above topics in the following weeks.
We'll share these on Twitter too under #SOYLworkshops18, so keep checking back for updates.