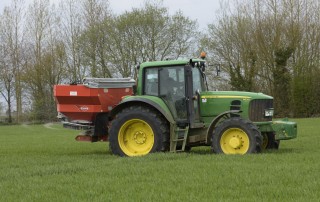 This blog is the second to be published as part of our spring 'crop MOT' blog series. You can read the first blog here.
With April quite literally around the corner and early nitrogen doses now applied, it's an opportune time to reflect on what's happened so far this season and factor in decisions for future applications. I believe it's always sensible to constantly question the fertiliser plans and programmes made earlier in the season and it's not to say they are wrong, it's to check they are still right!
This autumn and winter have sadly been very similar to last year. Once again we saw very high levels of rainfall, especially early in the new year, and this was compounded by cold temperatures which lasted well into early spring.
These factors have combined to mean that soils generally contained less available nitrogen than normal at the start of spring; firstly because of overwinter nitrate leaching (as highlighted by the AHDB Excess Winter Rainfall Charts) and then from the lower natural mineralisation rates in those colder soils. It's also worth noting that generally very low Soil Mineral Nitrogen (SMN) results have backed this up, however, there are some areas with reasonable levels where soil organic matter is high, vegetables are in the rotation or manures have recently been applied.
Fortunately, many farmers were able to apply early nitrogen and sulphur for crops to utilise as soon as soil temperatures warmed, and these applications were crucial for supporting growth. Interestingly, the ability of oilseed rape to grow at slightly cooler temperatures than cereals has really been highlighted this year too.
The question now is: Should you make changes to your future applications?
Firstly, I think it is important to continually and honestly try to assess yield potential because it clearly drives nitrogen demand; - those of you growing milling wheat and malting barley will be acutely aware of this regarding protein/nitrogen dilution.
Biomass maps, like those available from SOYL, can be very useful for identifying differences across the whole farm, but also within individual fields. This gives you the ability to tailor the doses to individual fields, as well as potentially look at variable application rates within fields.
In terms of overall nitrogen rate, it is important to reflect on previous crop performance - not just in terms of yield but importantly grain protein/nitrogen results as well.
This, in conjunction with knowing the nitrogen rates applied, can be extremely useful for assessing whether too much or too little nitrogen was applied. Take feed wheat for example; if you are regularly producing protein above 12% this would indicate too much nitrogen was applied for the yield achieved, whereas below 10% would indicate more could have potentially been applied. The problem, however, is that you will normally only have grain results from a shed rather than specific fields, and this can mean losing a lot of the valuable detail and variation.
With this in mind I would strongly encourage you to collect samples from individual fields (a handful from each trailer to subsample) or at least a few barometer fields across the farm to identify the level of variation. For many, seeing the value from testing a few fields is often enough encouragement for a move to testing the vast majority.

In terms of adjusting the total nitrogen rate, I would always recommend this is done with the final nitrogen dose. When it comes to crop development, this gives you the most amount of time to assess yield potential and be more accurate although, soberingly, a significant amount of yield is actually produced late in the season. For example, 65% of wheat biomass and subsequent yield is produced after the flag leaf stage (GS39). It is then too late for soil applied nitrogen to effectively influence yield, but this could be where an efficient, safe foliar nitrogen such as Nutrino Pro could be used. This is something we're looking at in our 3D Thinking trials.

What could that look like for making decisions?
I'm going to assume your historic protein results have been near the optimum for feed wheat at around 11%, and you are therefore putting on the optimum rate of nitrogen.
This would mean that when you get towards your final application, if the potential looks good, the biomass is developing well and the long-distance weather forecast is promising, you could consider an increase in dose to account for those overwinter losses I mentioned earlier. It may even be useful to support this through testing tissue and/or using something like the Yara N-Tester.

Conversely, if the crop looks more average and conditions don't look favourable going forward, it may be wiser to either keep to the original plan or even consider a reduction. Clearly it involves time to make these decisions, but when you consider the expenditure and potential returns involved with good nutrition I feel it is time well spent.
Don't forget to monitor the success of those decisions at harvest!
This comes back to what I mentioned earlier about taking grain samples (for nitrogen or protein analysis) from individual fields, or even part-fields if you altered the programme. This, in conjunction with the yield map, would allow you to assess in more detail if you made the right decisions and any conclusions you draw can then form the basis of your plans for next year.
...and it's not just all about nitrogen
Grain can also be analyzed for all other nutrients and although this will be an additional cost, I believe it does add real value to managing other nutrients. There are two options available:
A standard laboratory analysis that provides the detailed results against thresholds (where they are known) or;
The full package from ADAS under the YEN Nutrition Grain Benchmarking service. This gives exact grain offtake figures and compares grain results to all other samples taken.
Improving the efficiency (uptake) of applied nitrogen - or all nutrients - clearly has the potential to significantly improve crop margins through increased yields, quality and/or optimised inputs but it can also simultaneously benefit the environment. Taking time to really consider your applications means that after harvest there should be less nitrogen in the soil at risk of leaching, the carbon footprint of the produce will be lower and any losses during the season, such as ammonia, will be reduced.
There is the potential for a strong win:win outcome, and it highlights to me the real value of focusing on measuring and improving efficiency.
For more advice about anything covered in the blog, please speak to your local Frontier or SOYL rep, or get in touch.