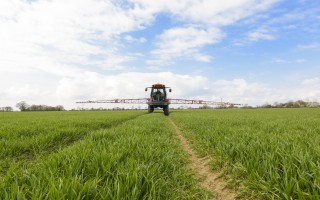 Reduce your CO2e (carbon dioxide equivalent)/t whilst improving yield and quality.
If a production system experiences losses, its efficiency is going to be reduced. Often this can lead to a reduction in output too and, if losses are severe enough, even an increase to overall running costs.

If we look at this in relation to our fertiliser programmes the risks are similar, so preventing any losses can lead to some real gains. For example, by reducing the CO2e/t of production you could improve your margins and simultaneously benefit the environment.

Enhancing your fertiliser programme
In this blog I'll focus on losses from the system but, before that, it's also worth considering some of the other important factors for improvement. I like to refer to these as the five Rs:
Right conditions
Right rate
Right application
Right timing
Right product.
When contemplating the five Rs, you may begin to ask yourself questions such as:
Are you using the most efficient fertiliser source?
Are you applying accurately and right to the crop edge?
Are you delivering adequate nutrition (macro and micro)?
Are you assessing the nitrogen demand of the crop during the season to adjust rates?
Are your soils in the optimum condition to promote root growth and therefore maximise uptake?
All of these questions are important but I'm going to explore a very specific one: Can you better utilise or have improved efficiency with products already within the system, or can you introduce alternative products to do the job?

Thinking about urea
The ongoing consultation around straight urea has increased the discussion on what to do about reducing volatilisation losses of nitrogen as ammonia. There are two scenarios to consider as part of this:
Solid fertiliser products containing urea
Where the risk of volatilisation is likely to occur or increase based on soil and air conditions – such as when making applications later in the season – a solution could be to switch to an ammonium nitrate product such as CF Nitram which has no volatilisation risk. Alternatively, you could use solid urea that includes a urease inhibitor, such as Sustain. In nutrition trials the latter has shown equal performance to that of ammonium nitrate.
Liquid fertiliser where up to 50% of the nitrogen will be urea
Just like with solid urea, if liquid fertiliser is applied onto warm, dry soils with a high pH and with little imminent rainfall forecast, this will increase the rate of ammonia volatilisation. The impact of this is a loss of nitrogen from our fertiliser system which reduces nitrogen use efficiency (NUE) and has a damaging impact on the natural environment and air quality.
​Aside from careful considerations around application timings of liquid fertiliser, a way to combat the risk is to use a registered urease inhibitor like that of BASF Limus Clear. Your decision on whether to add it to the spray tank can be made on the day of application, making it a very flexible management tool that can be used when required.
In trials work conducted by ADAS/BASF, the addition of Limus Clear showed an average yield increase within wheats of 0.23t/ha (+£30/ha MOIC) and a decrease in ammonia emissions of up to 98%; increasing yield, margins and improving the farm efficiency rating.
Given the important role that urease inhibitors have to play in improving our NUE, it is vital to use products that deliver real, recognised and registered performance. For that reason, I recommend
Limus Clear
for use alongside liquid fertiliser and
Sustain
with solid urea fertilisers.
Can we reduce the risk of nitrogen loss via leaching?
Potentially, one of the most effective ways to address this would be to look at three of the five Rs as a priority:
Right conditions
Right rate
Right timing.
Assessing these factors first shouldn't really introduce any additional cost to the system. Of course, many will argue that nitrogen shouldn't be applied at all when there is a risk of leaching, however, it's important to be aware that any early applications of nitrogen have some potential risk of leaching down and out of the root zone or soil profile, especially given the extreme weather we saw earlier this spring. If this does happen, again it is a loss to our system because of the reduction in NUE it causes and it can have a seriously negative impact on the environment.
A second option for reducing the risk of leaching would be to include a nitrification inhibitor within the fertiliser application – possible for both solid and liquid. This significantly delays the nitrogen as ammonium (from urea, ammonium nitrate or ammonium sulphate) from converting to the plant-available but mobile nitrate form. However, it does have zero impact on reducing volatilisation and whilst of value for potentially reducing leaching, there is a risk it could slow down the availability of nitrogen to the crop.


Optimum NUE is the goal
Improving overall NUE is key to the yield, margin and environmental success of your farming business and using or including the above products within your crop production 'tool box' could be vital for unlocking this. Importantly though, while the benefits may be significant, there are still additional factors to bear in mind. Your next step, for instance, could be to start looking at the balance between soil and foliar-applied nitrogen sources, specifically which is the most effective method for nitrogen delivery.
If you've like more advice or guidance with anything covered above, please speak to your local Frontier contact or get in touch with our nutrition team.
---