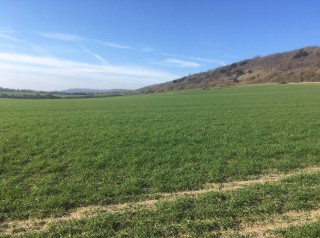 ​At this stage of the season, there is a lot to think about and plan on farm. Of course, the priorities from one farm to the next will always differ depending on location, rotation, soil conditions and overall crop production strategies.
With that in mind, we're compiling a spring blog series that covers some of the key considerations and activities for this time of year – a group of posts to help you carry out some 'crop MOTs' if you will.
This first blog focuses on spring nutrition for cereals and oilseed rape, but we'll be covering other crops and considerations in the coming days. To be notified each time a new blog is published, you can subscribe here.
Early crop nutrition for cereals and OSR
​In a similar vein to that of the 2019/20 season, the autumn once again proved challenging and there have been significant regional differences with regards to the establishment of winter cereals and winter oilseed rape.
Some areas have fared better than others and appear to have well established crops, while others have been subject to even more challenging conditions. The combination of a very wet November/December followed by snow and frosts in January and early February means many soils are cold and saturated, and the net result for some autumn crops is they are under stress and there is very little growth. However, spring is around the corner, day length is increasing and solar radiation will heat the ground to temperatures suited for nitrogen mineralisation.
Early application of nitrogen in cereals
Many will emphasise the importance of early applications of nitrogen to 'wake crops up' and in several areas, these applications have already been carried out.
Applications of nitrogen are especially important following a wet winter which may have led to increased leaching of soil nutrients – specifically the loss of both macro- and micro-nutrients. Some of the key nutrients required for crop establishment and successful growth are highly soluble and this puts them at greater risk of movement within the soil profile. It will be important to assess yield potential and, therefore, overall nitrogen demand as we get to the later applications to determine if more is required to make up any shortfall in supply.
Correcting the level of micronutrients available helps to prevent deficiencies and aids vital plant process such as photosynthesis, respiration and nitrogen assimilation to promote growth. Early applications of manganese, often in nitrate form, may also be used to encourage uptake, correct deficiencies and help maintain tiller numbers in cereals.

After the wet winter and frost heave (which occurs on lighter soils with a higher sand content and pH above 6) it is important to address manganese availability quickly. This can be done by including a T0 spray or, if deficiency is present, a pre-T0 spray. In oilseed rape, boron is the key nutrient involved in pollen production and is important for improving flowering and the evenness of maturity; boosting overall yield and oil content.
Consistent, positive results from our 3D Thinking trials network over three years highlighted the need to apply at least 600g of boron per hectare, with either a significant proportion applied during stem extension or all if none had already been applied in the autumn.
Addressing backward crops
In backward cereals and oilseed rape, it is even more important to correct any deficiencies to support tiller retention and plant survival due to the underdeveloped root structure. In these instances, you might consider using phosphites to increase root mass and aid the uptake of key nutrients.
Unlike most nutrients, phosphate is insoluble in the soil and binds with clay particles which can make it much harder for roots to access. Phosphite also increases the activity on nitrate reductase, which is a key enzyme in the nitrogen assimilation process that helps to increase nutrient uptake and support faster crop growth – both of which are crucial for higher yields.
Managing stressed crops
To relieve any stress that may be impacting crops, you may want to consider including follow up treatments of manganese in mixtures at other fungicide timings. These mixtures should include other micro-nutrients such as copper (increases cell wall strength, pollination and seed set) and zinc (increases fertility and grain quality) in cereals. Along with boron for oilseed rape, molybdenum is also important for improving nitrate and phosphate metabolism.
If crops do remain stressed, biostimulants that contain pidolic acid can be applied to promote plant growth and a quick recovery, thereby protecting crop yield.
The importance of monitoring conditions
As we head further into spring, I will continue to monitor crop development.
Some of this will include taking tissue samples so as to keep an eye on any deficiencies, but I'll also be testing soil temperatures and digging up plants to assess root growth and structure. I carry a soil compaction meter in my truck and use it in instances where crops are underdeveloped; it helps with decisions around the best approach for crop health and means I can support growers with suitable cultivation plans for the following crop.
For guidance or if you'd like to understand more about the most appropriate steps you should take for your crops this spring, please speak to your Frontier agronomist or contact us here. We'll also be publishing more advice as part of this 'crop MOT' blog series.