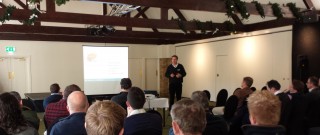 Distinctly different to the winter events, the summer training is a programme of practical, hands-on sessions with a much smaller group of growers, with 15-20 typically attending each. With a laptop provided for everyone attending, the focus is on how to use SOYL services and tools to make even smarter business decisions and what to do when help is required.
The subjects covered are:
Basic exploration of MySOYL, our precision farming data management platform; how to use it, what's available and some tips and tricks

Cropping and how we can make the flow of information between SOYL and farmer more accurate and efficient to ultimately lead to better nutrient management
How and why to record field walking observations on a digital platform using the iSOYLscout app

Custom Applications: creating variable rate plans for any product with an easy to use interface.

The sessions are a mixture of demonstrations and do-it-yourself exercises with plenty of SOYL staff on hand to help with the practicalities and answer questions specific to your own farm business.
The sessions give growers insight into why products work the way they do as well as how to get the best from them, and of course all attendees have been very interested in what's coming next!
Several events have already taken place in recent weeks, but there's still time to attend; find your nearest
here
.
Feedback on what to cover is always gratefully received. Contact me at
This email address is being protected from spambots. You need JavaScript enabled to view it.
to let me know your comments.
​



Tom Parker​
Head of products and technology

For specific advice for your business related to this blog or any other aspect of precision crop production get in touch with SOYL.