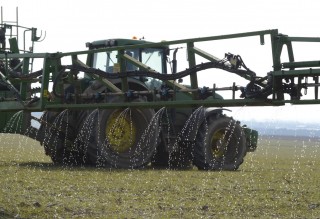 The rise in temperatures forecast this weekend beckons the prospect of one of the warmest Easters on record.
While many people's thoughts will turn to firing up the barbecue or joining a queue of traffic heading for the nearest beach, arable farmers will earmark the time to get out and on with spring land work.
Generally dry conditions have allowed swift progress with spring workload and most crops certainly look full of potential.
However, warm and dry conditions can pose a real challenge for urea fertiliser users because it can increase nitrogen losses. Some of the nitrogen within urea can escape as ammonia gas, a process known as ammonia volatilisation. Dry conditions compound this by preventing urea from being washed into the soil, increasing its exposure to volatilisation.
It's also made worse at the moment because significant doses of nitrogen are currently going onto some crops; higher doses of urea increase the risk of volatilisation.
While applications could be delayed until there is significant rainfall, that isn't ideal given crops' current need for nitrogen and potential future workload pressure.
Urease inhibitors - reducing risk of losses
Solid urea users have been able to significantly reduce the risk of losses by switching to ammonium nitrate fertiliser or a urea containing a 'urease inhibitor'. This inhibitor slows down the conversion of urea to ammonium thus reducing the risk of volatilisation.
For liquid users, this ability to reduce the risk of volatilisation loss has not been available until recently, even though all soil-applied liquid grades contain a proportion of urea.Clearly, liquid poses a lower risk as the maximum proportion of urea is 50% for straight liquid nitrogen which then reduces as the sulphur content increases. However, a significant amount of urea is still in danger of being lost.
Finally though, there is a way to reduce risk using an additive called N Protect.
N-Protect
​Last year Frontier launched N-Protect, which can be mixed with all liquid fertiliser grades to mitigate losses.It contains an inhibitor that works in exactly the same way as that with solid urea, controlling the conversion to reduce volatilisation and safeguard nitrogen.
To use, the material is simply mixed in with the liquid fertiliser during sprayer-filling when there is a perceived risk of volatilisation losses.The risk is greater for warm, dry soils and those with a high pH, especially for spring crops with little or no canopy cover to prevent the soil surface from drying out.
Trials demonstrate financial benefits
Over the last three years, replicated trials at Frontier have shown potential yield benefits of between 0.2-0.3t/ha in a number of different crops by using N-Protect.When you consider this against a cost of only £2 - £6/ha, thanks to a very low use-rate, there is the potential for significant returns.The exact use rate is linked to the amount of urea applied, so it changes with the grade of liquid fertiliser and nitrogen rate.
Who knows how long the fair weather will hold beyond Easter but if you're taking advantage of the warmer weather in the coming days to crack on with liquid applications, you now have a very flexible, efficient and low-cost method to manage the risk of any volatilisation losses – N Protect.
For more information about N-Protect and advice on how it might work for your farm, speak to your Frontier contact or get in touch with us here.