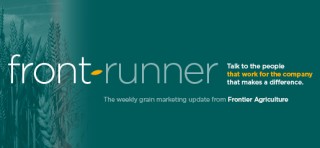 US Chicago Board of Trade (CBOT) wheat futures lost 5% of their value this week as traders reacted to increases in crop estimates for some of the world's major wheat producers. Improving Russian prospects were highlighted as a primary driver for the move. The Institute for Agricultural Market Studies (IKAR) raised its estimate to 79.5 million tonnes from 78 million tonnes as the Russian wheat harvest reached 46% completion and average yields surpassed last year, up to 3.66t/ha from 3.62t/ha.
49.7 million tonnes have been combined compared to 46.7 million tonnes at the same time last year. Additional selling pressure came from news that Canadian farmers could harvest a record wheat crop this season.
You can also listen to the Frontrunner podcast - press play to hear the latest report. This week the report is read by farm trader, Luke Cox.