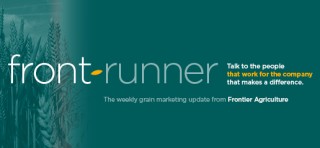 Rain arriving in the UK, northern Europe and Black Sea countries has been viewed as beneficial for the drought-stricken wheat crops in these regions, triggering a wave of selling on wheat futures markets earlier this week.
UK prices suffered particularly, losing as much as 40% of the gains they made during May. Values were not helped by the 1% gain of sterling against the euro. However, there was a notable turnaround on Thursday, led by wheat futures from the US Chicago Board of Trade (CBOT), which rallied to a six-week high...
You can also listen to Frontrunner - press play to hear the latest report on SoundCloud.

This week's report is read by Barley Trader, Westly Garner.