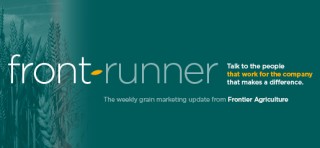 This week has seen volatile trading on US Chicago Board of Trade (CBOT) wheat futures caused by rumours of US wheat sales to China along with further cuts to wheat crop estimates for some of the major producers.
CBOT wheat futures hit contract lows ahead of the Stocks and Acreage Report from the United States Department of Agriculture (USDA) which was published on the 30th June. However, an unexpected cut of 600,000 acres in the planted wheat area, and therefore the lowest US wheat area since records began, triggered a positive turn for the market.
You can also listen to Frontrunner - press play to hear the latest report on SoundCloud.

This week's report is read by farm trader, Lottie Bauer.