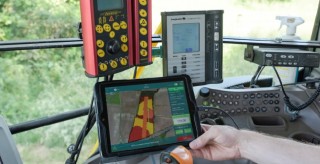 Well, the winter workshop campaign has finished for another year and was hugely successful – it is always a pleasure to tour the country seeing our customers.
At the workshops, I talked about what we have been developing at SOYL over the last year, as well as how and why farmers should be using these innovations within their businesses.
Importance of record-keeping
We looked at iSOYLscout – our field scouting app – and how to collect information in the field. One point, which I have made many times before, is the importance of recording anything that might affect your decision making in the future. That way, when the time comes you have the choice of whether to use it or not. What you can't do is record the information from the future! Examples we looked at were pest damage (slugs for example), weed patches (black-grass or brome) and also, just as an aide memoire, that grass weeds are ingressing from that headland.
The reason to record this data is so that it is not forgotten about, exaggerated, moved to another location and can be monitored and so forth. Remember of course that the value might be in several seasons to come, not necessarily just next autumn.
Remote sensing
Weed mapping brings me onto remote sensing. SOYL use light aircraft to collect imagery suitable for weed mapping. The resolution of the platform is very good and the daily outputs are at a level that makes them commercially viable. After some complicated analysis, weed control plans can be created from the imagery which is the output that directs your control. We also looked at using the outputs in different ways; for example a weed map may be used to direct control but also as part of a Variable Seed rate approach to offer some crop competitive control too.
ZoneSwitch: instant control of application
Lastly, the ZoneSwitch was launched. The ZoneSwitch is a hardware development that allows the automatic switching on or off of granular applicators. Distinct from variable rate applications, the ZoneSwitch detects whether a product should be applied or not. This allows the operator to automate patch application within fields and/or restrict application of products around features such as watercourses. Designed to work with the Custom Applications module in MySOYL, and compatible with the SOYL app iSOYL, the ZoneSwitch allows granular applications to be targeted in a straightforward way.
The last six months have been very exciting in the MySOYL world. Here are some of our other highlights:
Using iSOYLscout data. It's great to collect field scouting information but it's how we use it that is crucially important. Returning the data to MySOYL secures it and our tools can use the observations. For example, recording a patch of slug damage one year can be used in a Variable Seed plan the next, as well as creating a variable slug control plan using the Custom Applications module.
Our tools are designed with simplicity and power in mind. You can produce tasks quickly and easily as well as make them as sophisticated as you may want to. Establishment editing is a good example, where you can develop multiple scenarios for different crops or seasons as well as editing the shapes and rates within the layer.
The new Seed Application tool. This allows the fast, straightforward creation of Variable Seed tasks in a way that is consistent with our other tools. In fact, it takes me longer to explain the tool in the workshops than actually use it to produce a seed rate map!
Custom Applications is the ultimate in flexible precision farming. You can produce any application map you desire from it – herbicides, pesticides, irrigation, cultivation – you are only really limited by ambition!
The yield tools on mySOYL have been released. Since the workshops, these innovative ways to visualise yield, identify areas of good or poor performance and edit the underlying data have been made available.
Biomass maps
Last, but not least, is the development coming in the next month which is the opportunity for any MySOYL user to be able to access near real-time biomass maps of any of their fields. This gives us the chance to see how crops are developing in the current season as well as use them in conjunction with all the other data layers within MySOYL.
For specific advice for your business related to this blog or any other aspect of precision crop production get in touch with SOYL.