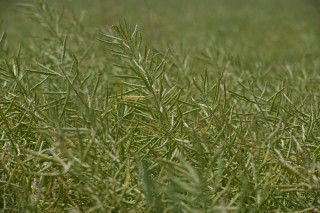 Recent dry and warm weather has encouraged oilseed rape crops into full flower and the countryside is dappled with bright, yellow fields. It is easy at this stage to forget about the preceding weather and the impact it has had on managing these crops this year.
The relatively warm autumn and early winter meant that soil nitrogen levels were potentially a little higher than normal. Forward oilseed rape crops benefited from this, meaning that by Christmas a number of crops had reasonably large canopies.
However, since then the weather has been extreme to say the least with a very cold, snowy and wet end to winter that significantly delayed the start of spring. Oilseed rape crops lost leaves to look more normal and soil nitrogen levels decreased, as nitrate and sulphate were unfortunately leached. Those who made very early fertiliser applications before the more extreme conditions may have even lost some of these nutrients.
Oilseed rape is a phenomenal crop for recovery and the growth seen during the last few weeks of improved weather has been staggering. This has created another challenge for growers keen to complete nitrogen applications before crop height and flowering prevent accurate spreading. Some may even have been forced to forgo their last application.
Will your oilseed rape crop access enough nutrients to maximise its potential?
Personally, I am definitely concerned because even in a 'normal' season (if such a thing actually exists), oilseed rape crops are often limited from reaching maximum potential by insufficient nitrogen provision later in the growing season. As well as the requirement to build crop canopy, nitrogen is also required to maintain canopy greenness and function to increase seed size and subsequent yield.
Added to this, the breakeven ratio for oilseed rape this year could easily be as low as 1.8 (RB209 is based on 2.5) which would justify an extra 30kg N/ha simply based on the bigger return on fertiliser investment.
For these reasons, I believe the vast majority of oilseed rape crops will respond to more nitrogen, especially those that have received a sub-optimal nitrogen rate. This nitrogen will keep the pods and leaves photosynthesising as long as possible to increase seed size and subsequent yield.
Can anything be done now?
Unfortunately, it's now too late to apply any solid or UAN liquid fertiliser but you can apply a foliar nitrogen product for immediate crop uptake. Oilseed Extra is a specially formulated foliar nitrogen and micronutrient product which should be applied at the end of flowering (from 90% petal fall) using normal spray nozzles.
In five years of Frontier trials it has produced consistent, positive yield responses (average 0.52t/ha) when applied in addition to a standard base fertiliser programme (200kgs/ha of nitrogen).
It can be applied during flowering, tank mixed with fungicides but smaller yield responses have been seen at this time, probably because flowers are coated that are subsequently shed.
If an oilseed rape crop runs out of nitrogen during the pod filling stage it will senesce prematurely, significantly knocking the yield potential. If you are concerned, take a tissue test at mid-to-end of flowering to find out the level of nitrogen in your crop.
I believe it's important now to reflect on what's happened this spring - how much nitrogen and sulphur has been applied? Has any soil or applied nitrogen and sulphur been lost? If you believe more is still required, an application of Oilseed Extra after petal fall will provide that additional support and help to maximise the potential of your oilseed rape crops. The consistent yield increases seen in Frontier trials over five years (above) clearly demonstrate the benefit of this beyond doubt.
For more information about the above or anything else related to crop production, speak to your Frontier contact or get in touch with us here.