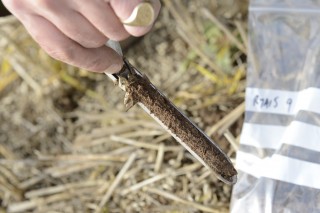 As I write this, I am travelling on the train from Edinburgh to Newark. What is great about travelling on the train is seeing, in detail, the beautiful British countryside. It's a great opportunity to review the land and see the huge variations that exist within fields. Even within stubble fields you can see the differences in crop thickness from one area to another and that will have had an impact on crop yield.
Across the UK, there are huge differences within fields, driven primarily by the glacial effects of huge movements of ice, water, rock and soil during the last ice age. This combined with managed farming methods since 4500 BC has caused huge variations across the landscape; contrasts that we can now see within each of the fields we farm.
A considerable factor which affected our fields this year was the amount of straw baled on farm, including that of oilseed rape. Doing this increased the removal of P&K considerably from soils – you can read more about the impact of straw removal in a previous blog we published.
Precision soil sampling – are you doing it?
With the above in mind, the vital importance of precision soil sampling is clear. We need to sample regularly to see what levels of nutrient and pH we have in our fields and precision sampling is a way to accurately measure this. Not only can we see if there are areas of deficiency, but also areas that may warrant efforts to be more efficient with our inputs.
Precision sampling also allows us to re-visit exact locations at any time in the future. This means that we can monitor the nutrient management techniques used over time to see if we are doing the right thing for the particular soil on your farm.
Importantly, regular soil sampling is a legal requirement and also a necessary part of many crop assurance schemes.
As part of your sampling programme, don't forget to ask about organic matter, soil fertility and trace element analysis. With the increased emphasis on soil health these days, this data gives a very good overview of how your soil is doing and a benchmark to work from.
To discuss more about your GPS soil sampling requirements, get in touch with your soil representative or contact our team.