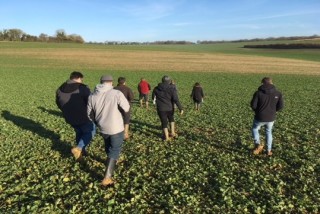 The weather has improved lately and workload for growers and advisors has increased. I am a relatively new member of the crop applications team at SOYL precision and I thought I'd share some insight into our role and how we support farmers.
The crop applications team - what we do to support farmers:
We create fertiliser recommendations for over one million hectares every year.
So far in 2018 we have produced variable rate nitrogen plans for over 250,000 hectares.
We create fertiliser recommendations for growers in the UK and also internationally.
The team creates more recommendations for lime than any other nutrient.
Joining the team
I started at SOYL last year after a short career break looking after my two daughters. Once they were both settled into school, I was eager to return to the world of work.
In my previous life (before children), I was a new product development manager in the food industry, developing goods for major retailers. Having grown up on a working farm, when I saw the job advertised at SOYL I thought it would be the perfect fit. Now, six months on, and part of the applications team at SOYL's Newbury head office, I am still delighted that I joined.
In those six months, I have learnt about everything from assessing soil types to how files can be downloaded to the iSOYL app. We have had some really enjoyable training sessions at a local estate looking at the key stages in the farming calendar, with the opportunity to observe drilling, cultivation and fertiliser applications. I am looking forward to going back and seeing the combines rolling in a few months time too.
Importantly, my time at SOYL has allowed me to discover that every season, every business and every farmer is different.The applications team, however, relish challenges like this and we are able to work together with the farmer to create plans that meet their business and machinery requirements.
After a very long and difficult winter, I am hoping that the next few months bring farmers some much needed dry weather. It has been a varied and, at times, challenging few months but I have found it thoroughly enjoyable supporting growers and I am looking forward to talking to even more of you in the months to come.
​Chloe Milton
Crop applications advisor