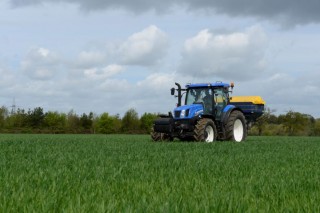 ​For the most part, many of us will admit that when it comes to fertiliser applications we can be guilty of concentrating solely on the application of nitrogen. The most common questions often revolve around the correct nitrogen rates and predicted yield responses but, in all honesty, it isn't all we should be thinking about.
As an industry, when focusing on P and K we often talk about 'feeding the soil'; making sure there are enough nutrients in the soil so it can then effectively feed the crop. However, what is often overlooked is the importance P and K play in directly feeding the crop.
Where P and K are used, you can actually see yield responses directly attributed to their application and, at Frontier, we have trial data to support this. It's certainly something worth thinking about as we sow this year's crops.
We have conducted a series of trials over a number of years looking at phosphate and potash but there are two trials from last harvest which have proven particularly interesting:
Autumn P trial in wheat
Spring PK trial in wheat
Trial 1: Autumn P trial in wheat
At our Wickenby site, we looked at autumn applications of phosphate fertiliser, namely as TSP in wheat. The soil for the trial had a phosphate index of 1 (below the target index 2), indicating some deficiency and that it could potentially be responsive to applications. The TSP was mainly applied at 165kg/ha, supplying 76kg/ha of phosphate (P2O5) to roughly cover all the crop removal.This was applied either three weeks before or just at pre-drilling, immediately after drilling or placed next to the seed using a special low disturbance plot drill.
All of these treatments gave positive yield increases. However, it was only the placed treatment that was statistically significant, showing a 0.6t/ha increase.This highlighted the value of fresh phosphate but also of placing it near to the seed, as it is very immobile in soil. In addition, we also included a lower rate (83kg/ha TSP 38kg/ha P2O5) and, surprisingly, this benefit virtually disappeared completely. While it is important that we remember this is only one trial, interestingly we saw a similar response in an OSR trial last year which indicated that if you are placing phosphate, don't reduce the rate excessively. The reassuring fact from most of the full rate applications is that the yield increase paid for the cost of the fertiliser, meaning the crop paid for its own phosphate removal.
Referring to the above results, it's clear to see the benefits of autumn TSP when dealing with responsive soils and that, if possible, you should certainly aim to place it when you can or at least apply it after drilling.
Trail 2: Spring PK trial in wheat
As well as the autumn trial, a spring PK trial in wheat was carried out in exactly the same field. The most positive responses were seen following applications of the CF Fertilisers NPK compound treatment. This was likely down to the phosphate it applied, as the multiple applications of DAP gave the same significant yield increases. Conversely, there was nothing from the MOP treatment which is understandable, as the soil was at target index 2 for potash.
There is some indication from the trial that the form in which the phosphate is applied has an impact in the spring. The ammonium phosphate treatments (CF NPK and DAP) performed better than the straight (TSP) and multiple applications were also more effective.
Overall, the trial highlighted the benefit of fresh phosphate in the spring on a responsive site and that, should you not be able apply phosphate in the autumn, a spring NPK or DAP application should give positive results.
What can we learn from these findings?
If anything, these trials have proven that we should never underestimate the importance of fresh phosphate – or potash – and that it should be appreciated when putting together fertiliser plans.
Crucially, to get the best from your soil and give the best to your crop, it's worth taking some time to look at your own circumstances and identify the situations in which you may want to consider applications of phosphate.
I would encourage every grower to have their soils tested and ideally precision sampled – it is imperative that you have an understanding of them so you know exactly what you're working with. A lot of farming is about risk management, and knowing more about the ground beneath your feet can only help when it comes to driving future decisions going forward.
For more information on any of the above, speak to your Frontier contact or get in touch with us here.