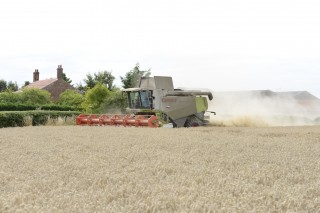 For many arable farmers, July is always a month of preparation and anticipation. The latter is particularly true for harvest and involves waiting for oilseed rape and barley to be fit enough to cut, calculating yields and quality, cleaning out grain sheds, servicing the combine and of course dealing with impending weather.
Referring back to preparation, one area that is regularly overlooked is the early selection of seed varieties and dressings. With the eradication of the widely used Redigo Deter and Raxil Star products, growers are forced to look elsewhere in order to fulfil the requirement of protecting against seed and soil borne cereal diseases. From January 2019 onwards it will be illegal to drill any seed with these dressings, meaning growers should be mindful that demand may be high this year and ordering this dressing early will help avoid disappointment.
However, all is not lost; there are other seed dressings available to provide protection against seed and soil borne disease, along with root promoters giving improved length and density. This will allow for faster and better emergence, with larger foliage weight above the ground. With later drilling often required, it's important to focus on improving rooting and early growth.
Seed variety selection is also crucial when planning next year's cropping. It's always important to grow a crop that appeals to a local market, enabling the most profitable return. With milling premiums still unfavourable and strong local demand, the Three Counties area has recently favoured high yielding Group 4 wheats and this year we have some promising additions to this group to choose from:
This is the highest yielding feed wheat throughout the country as a first or second wheat. However, while it boasts great yield benefits its disease package isn't the strongest on the market.
This would be the next highest yielding, with a good disease package and the added bonus of being early to drill and harvest. This could be seen as one of the best replacements for JB Diego.
A feed wheat that would be best suited to the Three Counties, as western yields are the same as RGT Gravity. It has a great disease score, but would be more suited as a first wheat.
A Group 2 wheat with the potential of a premium if grown for a higher quality market than feed wheat. This variety is a sound option for later drilling and to go in as a second wheat.
These varieties are just a handful on the AHDB recommended list but would be viewed as 'stand out'. However, every farm is unique and factors such as land type, drilling dates, black-grass issues and available markets all need to be considered and discussed with your farm trader or agronomist in order to choose the best variety possible.
Growers that are nervous about swapping from long-standing favourites can build confidence by researching and trialling newer varieties on their farm. This is the best way to find out if the variety truly works on particular pieces of your land. With higher yields and stronger disease portfolios, new varieties can potentially have a positive impact on the profit margin. As Winston Churchill once said, "To improve is to change; to be perfect is to change often."