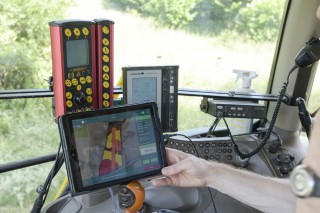 When it comes to drilling your next crop, do you consider the evenness of establishment in previous years and the consistency of your return on investment for each field? The inherent variability in soil type in most fields makes variable rate seed drilling a sensible option and the potential for strong payback via yield gain means that adopting this approach is an easy decision for many growers.
Getting started
Many growers already have the necessary kit for their first foray into variable rate drilling. The essential items are a map of the main soil type zones for each field, a GPS system to control the drill, a drill capable of being connected to a GPS system and some prior knowledge and experience of the field. Yield maps, satellite imagery and plant counts from previous years are also very useful but not always vital.
Soil type zone maps
The soil type zone map can be combined with your knowledge of the field and an agronomic model, built by our team at SOYL, to allocate an establishment estimate to each zone. This estimate represents the percentage of winter sown seeds likely to become viable plants in the spring.We will then provide a recommended percentage which can then be fine tuned to reflect on-farm experience.
Soil type maps with establishment estimates can be produced using a number of techniques at a low cost and can support other management decisions too. Crucially, once they have been produced, they never need to be done again.The establishment map is combined with your target plant population and thousand grain weight to work out a seed rate in kg/ha for each soil type zone.
Equipment
GPS application systems from most precision suppliers, including John Deere, Trimble, Topcon and Agleader, are capable of variable rate drill control. The simplest approach is to use SOYL's cost effective iPad solution, iSOYL, which combines ease of use in field with simple wireless data download.
Most drills purchased in the last six years will likely have a controller capable of connection to a GPS system, including Vaderstad, Horsch, Amazone and Sumo.Each manufacturer has a range of models so it's worth checking compatibility with our technical support team.When purchasing a new drill it's a good idea to make your variable rate drilling intentions clear to avoid facing the hidden costs associated with unlocking this functionality later.
The payback
Like any other activity on farm, variable rate seed has to produce a return in excess of its cost. As this is the value of the soil type zones depreciated over a number of years, this is relatively modest.Seed rate maps can be made in MySOYL at a low subscription level.
SOYL trials have assessed fields that have been variable rate drilled but with part of each soil type drilled at the usual flat rate. Comparing the yield of each of these zones has shown typical gains of 4.2% in winter wheat over flat rate drilling.
With visible improvements and more even fields to harvest, it's easy to see why the precise approach can be the right one.