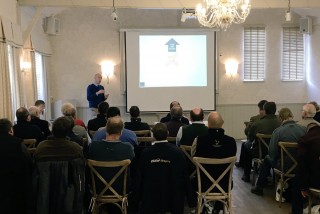 At our recent workshops, I addressed variable rate nitrogen and some of the often 'overlooked' added benefits associated with it.
We have always talked about yield being the key benefit of variable rate nitrogen, with typical responses being somewhere between 3 –8%. In a survey I carried out in June last year, I spoke to over 100 growers and advisers to discuss the benefits of variable rate nitrogen.
The main benefits cited went beyond the yield response:
Crop evenness
An even crop means that all inputs the crop receives are more efficient, including nitrogen.
We recently carried out a trial looking at the effect variable rate nitrogen has on residual nitrogen and nitrogen efficiency. Flat rate and variable rate nitrogen strips were set out and applied throughout the season and before harvest, grain samples from the different strips were analysed for grain nitrogen.
Yield data and nitrogen rates for the same points were gathered, giving us total nitrogen applied and total nitrogen removed. The variable rate outperformed the flat rate in terms of yield and the flat rate strip left five times more residual nitrogen behind than the variable rate strips.
Ask yourself; would you rather more nitrogen goes into the crop, or into higher residual nitrogen levels?
Quality
Protein is one of the key indicators the industry uses to measure crop quality and grain protein is directly affected by the amount of nitrogen a plant receives. This helps indicate whether crops are receiving optimal nitrogen rates.
Not achieving the correct protein specification for milling wheat can have costly financial implications and low protein for feed wheat indicates sub-optimum nitrogen rates resulting in a yield penalty.
Based on data from the last four years, wheat crops receiving variable rate nitrogen consistently produced a higher protein level and have less variation.
Targeted
Being targeted means matching application rates to crop needs in order to produce the optimum canopy size and, ultimately, the maximum yield potential for each part of every field. Each field is different, so why should they all get the same rate?
Leaf Area Index (LAI) imagery which measures crop biomass is the basis of our variable rate nitrogen service. Using this information we can target nitrogen applications for each unique field to help grow canopy early in the season and then maximise yield potential later on.
Easier harvest
An even crop helps make best use of nitrogen and reduces waste – being targeted means the right rate is applied to every part of the field. Together these factors make harvesting the field more efficient due to less variability. Where yield maps are produced, we can also measure combine output in tonnes per hour. When looking at data collected in a variable rate nitrogen year and then a flat rate nitrogen year, the variable rate nitrogen year had an increased output of 25% and variation across the field was reduced by 15%. This improvement can be associated with a combination of higher yield, evenness of crop and no lodging.
N100
For the 2018 season we have set up our largest ever multi site variable rate nitrogen trial. Fields will be split, with half the field receiving nitrogen variably and half at a flat rate for each application. Yield data will be used to measure the yield improvement and quantify the benefit.
This trial is open to anyone so if you would like to be involved please speak to your local SOYL Area Manager for more information.
For specific advice for your business related to this blog or any other aspect of precision crop production get in touch with SOYL.