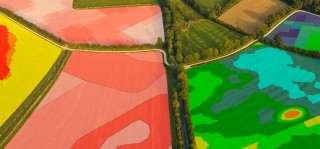 There can be confusion around the benefits of variable rate nitrogen. In fact, I was talking to a consultant just this week who is new to precision farming and he was discussing the perceived cost savings from variable rate nitrogen. I gave him a clear message and one that I think is worth sharing here.
"Don't expect to save money through using less nitrogen with variable rate"
The benefit of variable rate nitrogen is all about yield – always has been and always will be. At SOYL, we first identified this in 2003 when using satellite imagery.
Crop management to increase yield
In the majority of fields increased yield will be the benefit, particularly in winter wheat. Our strategy of managing crop variation, with earlier applications and then pushing potential high yielding areas later in the season, leads to benefits ranging between 3% and 7% with a nine year average of 4.37%.
Over 11 seasons, we have seen a mix of results when comparing SOYL variable rate nitrogen with a traditional flat rate application. These are summarised below:
Year

Yield Response​

​

​2007

​

​4.59%

​

​

​2008
​4.21%
​2009
​3.74%
​2010
​4.33%
​2011
​5.9%
​2012
​6.4%
​2013
​4.4%
​2014
​5.21%
​2015
​3.1%
​2016
​3.2%
​2017
​3.0%
​Average
​4.37%
​Value per ha - wheat: £140/t
​£61/ha
​Maximum service fee
​£8/ha
Use satellite imagery to determine applications
Our variable rate nitrogen system is based on interpreting satellite imagery and presenting it in a way that is easy to understand. Nitrogen maps are then made by SOYL, or the grower, using SOYL's self service website - MySOYL.
Images are presented as Leaf Area Index (LAI) maps. We then have tools that use LAI-based agronomy models to calculate nitrogen rates. Alongside the acquisition of satellite imagery, field measurements are taken through the season and this process 'ground-truths' the imagery and makes it relevant to the growing season.
Early in the season, it is important to identify nitrogen-limiting areas where lower uptake has lead to restricted crop growth – these will be highlighted on the satellite images. Additional nitrogen targeted in these poorer areas will allow existing wheat to tiller, or simulate additional tillering, which means low yield-potential areas will achieve higher final yields.
This was particularly important this year. There was a 'double whammy' of very high rainfall, up to 200% of normal. In SOYL's soil-nitrogen monitoring this showed leaching losses averaging 50kg/ha of nitrogen from December to March. This, coupled with very low temperatures meant that early nitrogen availability, particularly on heavier soils where temperatures are slow to warm up, was poor and lead to slow crop growth and tiller survival in many parts of fields.
As mentioned, deficiency in these areas can be easily identified on satellite imagery and the shortfall compensated for by variable nitrogen application plans.
Forward areas are not pushed until later in season. At this point, nitrogen will start contributing to grain yield directly rather than increasing the leaf area in crops that are already at their optimum canopy size. This will normally be the policy from late April.
Find out more
The service is simple to use, making it easy to achieve the benefits.If you would like to find out more there is an excellent video on our website (scroll towards the bottom of the page) as well as a previous blog post which explores further benefits from a different perspective.
If you would like to know more about satellite imagery and variable rate nitrogen please don't hesitate to get in touch. You can contact me by This email address is being protected from spambots. You need JavaScript enabled to view it. or by calling 07850 468587.