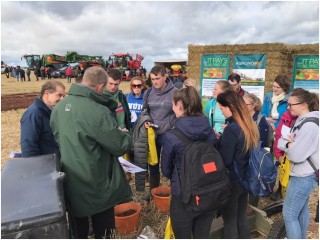 I had the pleasure of attending Tillage Live 2018 last week. This year, the event was held in Dunbar, East Lothian and although SOYL have always supported the event, it had been of couple of years since I'd been myself. I was really looking forward to exploring the site, talking to lots of attendees and seeing the impressive demonstrations on show.
​At 7.30am, I eagerly arrived expecting to be greeted by our nice, warm stand complete with marquee to escape the harsh winds. However, what I was actually greeted by was a bare plot. Winds had reached 40mph, leading to a ban on all tents and flags, and any banners or boards were soon dispatched down towards the Firth of Forth.
With the weather looking bleak, I didn't quite know what to expect. However, those sorts of conditions aren't such a shock further north and it soon became apparent it wasn't stopping anyone. Besides, it was too windy to do anything on farm.
By 10am, lots of attendees had fought their way through the strong wind gusts to our stand and it was great to get chatting about our precision farming services. Our local team and Frontier agronomists managed to set up a quad bike and conductivity meter close to the shelter of a haystack and, alongside our participation in the event's Knowledge Trail, we managed to speak to a whole host of growers.
Variable rate drilling
Interest in our VR drilling service was particularly strong. A week before the event, we had surveyed the 100 acre demo field on site and could explain the data to growers keen to learn how it could be utilised. Many commented on the immediate difference they could see in the cultivated soil plots and how this matched our conductivity map; from the heavy soils at the bottom end of the field near the car park, to the lighter end near our stand.
In addition, buckets of soil from each area of the field clearly showed the difference in clod size and structure. This further added to the story and made it easy to show visitors how variable seed rates would be of great benefit to the soil beneath their feet.
Overall, the event was really rewarding and I was certainly glad to make a return. There was plenty of great discussion and I really enjoyed the opportunity to deliver practical advice about good data use as part of the Knowledge Trail. We're certainly looking forward to following-up with those that attended to see how we can use insight and variable services to help them with decision-making on their own farm.
As for the wind, while it did bring some initial difficulties it certainly did us a favour by keeping the rain at bay. In fact, I was particularly grateful at the end of the day as my flight back to Heathrow took twenty minutes less than usual!